First Friends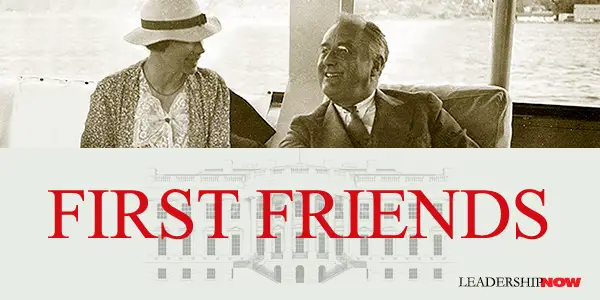 FRIENDSHIPS make a difference in the trajectory of our lives. Our friends can help shape who we are because they affect our choices and thus the paths we follow. It's no different for people in power.
Gary Ginsberg reports on the friendships that made a difference in the lives of nine of the presidents of the United States in First Friends: The Powerful, Unsung (And Unelected) People Who Shaped Our Presidents.
When vetting Al Gore for the potential VP spot, Ginsberg came into contact with LBJ's White House lawyer and chief speechwriter Harry McPherson. McPherson's overriding concern was, "Does he have any friends?" People he can relax with, have drinks with and share the issues with.
Reflecting on his time spent with Johnson, McPherson "recognized that there was a gaping hole in Jonhson's life, one that could have been filled with a friend who might have enabled him to be a more successful president. Over his long agonizing debate over Vietnam, for example, Harry had theorized an intimate could have helped clarify his thinking and eased the pressure as the country divided over the war and ultimately forced his early retirement."
A presidential friend may not be essential to their success, but it does say something about them. McPherson concluded, "If he can't develop or even claim one real friendship, how's he going to lead a nation?"
Ginsberg explores the relationships and the impact they had between:
Thomas Jefferson and James Madison
Franklin Pierce and Nathaniel Hawthorne
Abraham Lincoln and Joshua Speed
Woodrow Wilson and Colonel House
FDR and Daisy Suckley
Harry Truman and Eddie Johnson
Jack Kennedy and David Ormsby-Gore
Richard Noxon and Bebe Rebozo
Bill Clinton and Vernon Jordan
Most of the presidential friends were content with staying in the background and just being a friend, which made them so valuable as friends. Their friendship didn't depend on political office or a personal agenda.
They often provided the Yin to their Yang: "For Jefferson to be Jefferson—big thinking and idealistic to the max—he needed as his stabilizer and actualizer the more practical, cautious Madison." They made them better: "Jackie loved in Jack the man he wanted to be, and David was the man helping him, in her eyes, to be the man Jack wanted to be." Sometimes they were just a sounding board, there to listen while they worked through their thoughts.
Ginsberg writes, "those presidents who did have First Friends were almost always the better for it—and so was the country." And we are too. We all need some First Friends.
* * *


Follow us on
Instagram
and
Twitter
for additional leadership and personal development ideas.
* * *


Posted by Michael McKinney at 07:14 PM
Permalink | Comments (0) | This post is about Leaders