America Through the Eyes of the Founding Fathers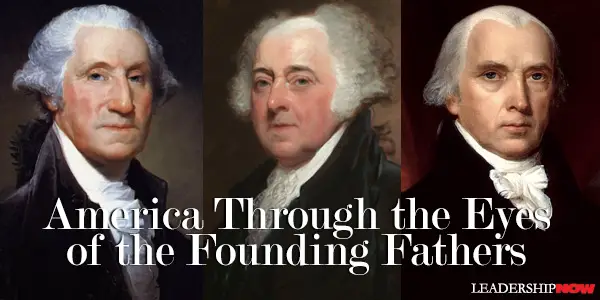 I
N A LETTER from the second president of the United States, John Adams, to the Officers of the first Brigade of the Third Division of the Militia of Massachusetts dated October 11, 1798, Adams cautioned the country against
hypocrisy
—saying one thing and doing another.
But laws he believed, could not prevent this hypocrisy. No law, no constitution could save an immoral people. While the Founding Fathers believed in the necessary separation of Church and State, they believed no discussion of morals was possible without an agreed-upon philosophy – a philosophy that superseded the logic of men. So Adams concluded that "Our Constitution was made only for a moral and religious people."
George Washington also said as much halfway through his Farewell Address of 1796. He stated: "Of all the dispositions and habits which lead to political prosperity, Religion and morality are indispensable supports." He added, "And let us with caution indulge the supposition that morality can be maintained without religion. Whatever may be conceded to the influence of refined education on minds of peculiar structure, reason and experience both forbid us to expect that National morality can prevail in exclusion of religious principle."
Both Adams and Washington are appealing to a morality that was eternal—beyond the customs of man. A morality that didn't shift on convention.
John Adams wrote to the Massachusetts Militia:
While our country remains untainted with the principles and manners which are now producing desolation in so many parts of the world; while she continues sincere, and incapable of insidious and impious policy, we shall have the strongest reason to rejoice in the local destination assigned us by Providence.

But should the people of America once become capable of that deep simulation towards one another, and towards foreign nations, which assumes the language of justice and moderation, while it is practising iniquity and extravagance, and displays in the most captivating manner the charming pictures of candour, frankness, and sincerity, while it is rioting in rapine and insolence, this country will be the most miserable habitation in the world.

Because we have no government, armed with power, capable of contending with human passions, unbridled by morality and religion. Avarice, ambition, revenge and licentiousness would break the strongest cords of our Constitution, as a whale goes through a net. Our Constitution was made only for a moral and religious people. It is wholly inadequate to the government of any other. Oaths in this country are as yet universally considered as sacred obligations. That which you have taken, and so solemnly repeated on that venerable ground, is an ample pledge of your sincerity and devotion to your country and its government.
James Madison, the fourth President of the United States, believed that the governed were obliged to control itself. Furthermore, it was the responsibility of a virtuous people to select leaders that would reflect that ideal. Leaders that would be capable by virtue of their own character, to adapt these eternal morals that Adams often spoke of, to particular circumstances. Madison wrote:
But I go on this great republican principle, that the people will have virtue and intelligence to select men of virtue and wisdom. Is there no virtue among us? If there be not, we are in a wretched situation. No theoretical checks--no form of government can render us secure. To suppose that any form of government will secure liberty or happiness without any virtue in the people, is a chimerical idea. If there be sufficient virtue and intelligence in the community, it will be exercised in the selection of these men. So that we do not depend on their virtue, or put confidence in our rulers, but in the people who are to choose them.
* * *


Like us on
Instagram
and
Facebook
for additional leadership and personal development ideas.

Posted by Michael McKinney at 12:47 AM
Permalink | Comments (0) | This post is about Government , Leaders