What Makes a President Great?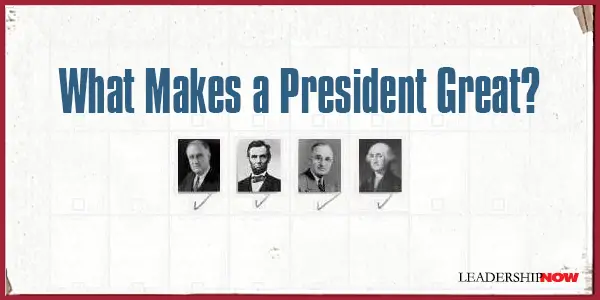 HAVING grown weary of the of what he terms as the presidential ratings game, historian, teacher, and politico Alvin Felzenberg decided to present a new ranking in his book, The Leaders We Deserved (and a Few We Didn't): Rethinking the Presidential Rating Game. Instead of evaluating the presidents and giving them a single score, he had devised six criteria to better account for their actual contribution to history. The first three criteria are: character, vision and competence. They give insight as to how they would handle the next three criteria: economic policy, the preservation and extension of liberty, and national security and defense. While you may disagree with his conclusions, you will no doubt find it useful in evaluating presidents and by extension it will give you a framework to appraise future presidential candidates.
Based on this exercise, Felzenberg gives a list of what we should look for in presidential candidates:
A Sense of Purpose. "Nearly all presidents who earned a rating of great or near great articulated specific goals that they wanted to achieve as president."
Examine How They Met Adversity. "All of he great and near great presidents emerged from conflicts and disappointments they encountered stronger and more resilient ten they had before. This is what made their previous ordeals transformative. All regarded these adversities as learning experiences, however painful. None emerged from such setbacks regarding themselves as victims. None were known to complain or whine—at least out loud or in public—about their private misfortunes."
Broad Life Experiences. "Most great and near great presidents had multiple occupations, not all of them in politics, before coming president. Through the depth and breadth of their experiences, successful presidents learned how to relate to people in all walks of life."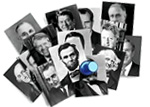 A Natural Curiosity. "Great of near great presidents remained curious all their lives about the world around them and about the cause of the problems they were called upon to solve."
A Well-Developed Sense of Integrity. Look for honesty ("doing what one said he would do, or explaining why unforeseen circumstances necessitated a different course"), courage ('meeting adversity head-on, often at political or personal risk"), and integrity ("placing the interests of one's office and one's country ahead of personal convenience or interests, or those of one's associates").
Humility. "Although confident in their abilities, successful presidents held their egos in check. All great and near great presidents understood that they would receive the credit for the achievements of their subordinates. For this reason they strove to find outstanding ones…including on occasion, former rivals and members of the opposition party."
The nation's worst presidents had some or all of the following traits we would do well to avoid:
• Watch out for cynicism and complacency.
• Stay away from whiners.
• Keep away from know-it-alls.
• Steer clear of candidates with a narrow focus.
• Be leery of unrelenting ideologues.
• Stand guard against bearers of grudges.
• Eschew tendencies toward bald assertions of power.
According to Felzenberg we certainly deserved Lincoln, Washington, Theodore Roosevelt, Truman, Reagan, Ford, and surprisingly enough, Coolidge, among others. As he did with so much else, Ronald Reagan knew precisely what he was doing when he ordered Calvin Coolidge's portrait hung in the White House cabinet room.
Of the presidents we least deserved, most proved especially adept at mastering the electoral machinery of their respective eras and, sadly, at little else.
The Leaders We Deserved is carefully considered and not only provides a fresh perspective on our nation's presidents, but will give you a few surprising insights as well. A good book to read in this election year. Below is a list of the top twelve presidents based on Felzenberg's criteria:
President
Character
Vision
Competence
Economic Policy
Preserving
& Extending Liberty
Defense, National Security & Foreign Policy
Average Score
Lincoln

5

5

5

5

5

5

5.00

Washington

5

4

5

5

4

5

4.67

Roosevelt, T.

4

5

5

5

3

5

4.50

Reagan

5

5

3

5

4

5

4.50

Eisenhower

5

3

5

4

4

4

4.17

Roosevelt, F.

3

4

5

3

4

5

4.00

Taylor

5

4

4

3

4

3

3.83

Grant

4

5

3

3

5

3

3.83

McKinley

5

3

4

4

2

5

3.83

Truman

5

4

4

2

4

4

3.83

Kennedy

3

4

4

4

4

4

3.83

Coolidge

5

3

4

4

4

2

3.67
* * *


Like us on
Instagram
and
Facebook
for additional leadership and personal development ideas.
* * *


Posted by Michael McKinney at 08:21 AM
Permalink | Comments (0) | This post is about Leaders