Leading Thoughts for September 2, 2021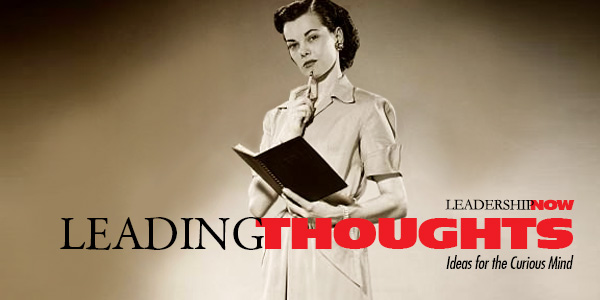 IDEAS shared have the power to expand perspectives, change thinking, and move lives. Here are two ideas for the curious mind to engage with:
I.
Consultant Jeff Davidson on the need for breathing space:
"When your brain is always engaged, when your neurons are always firing, when you find yourself in a continual mode of reacting and responding, instead of steering and directing, the best and brightest solutions that you are capable of producing rarely see the light of day.

"You're firmly caught in a trap without realizing that you are. Like everyone else, you're adopting the same survival mechanisms, galloping along on the same treadmill, and defaulting into the same operational cycles. If new insights or fresh perspectives spring forth, will you, can you, actually act upon them? Do you have any chance of thinking new thoughts, or are you simply generating permeations of all your previous thoughts?"
Source: Speech, Taking Back Control of Our Days
II.
Philip Yancy on how art can help turn us from the world's frivolities and given us time for reflection:
"Compared to any other time in history, we moderns scream and shout at each other. Listen to the music on any Top 40 station. Visit a museum of contemporary art. The world today contains no subtlety, no silence, no spaces.

"Spaces need filling. The father of cellist Yo-Yo Ma spent World War II in Paris, where he lived alone in a garret throughout the German occupation. In order to restore sanity to his world, he would memorize violin pieces by Bach during the day, and then at night, during blackout, he would play them alone in the dark. The sounds made by the reverberating strings held out the promise of order and hope and beauty. Later his son, Yo-Yo, took up the father's advice to play a Bach suite from memory every night before going to bed. Yo-Yo Ma says, 'This isn't practicing; it's contemplating. You're alone with your soul.'"
Source: First Things, "What Art Can—and Can't—Do" February 2009
* * *
Look for these ideas every Thursday on the Leading Blog. Find more ideas on the LeadingThoughts index.
* * *


Like us on
Instagram
and
Facebook
for additional leadership and personal development ideas.

Posted by Michael McKinney at 08:40 AM
Permalink | Comments (0) | This post is about Leading Thoughts