First Look: Leadership Books for September 2021
Here's a look at some of the best leadership books to be released in September 2021. Don't miss out on other great new and future releases not listed here.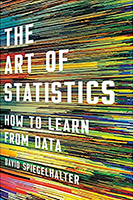 The Art of Statistics: How to Learn from Data by David Spiegelhalter
In The Art of Statistics, world-renowned statistician David Spiegelhalter shows readers how to derive knowledge from raw data by focusing on the concepts and connections behind the math. Drawing on real world examples to introduce complex issues, he shows us how statistics can help us determine the luckiest passenger on the Titanic, whether a notorious serial killer could have been caught earlier, and if screening for ovarian cancer is beneficial. The Art of Statistics not only shows us how mathematicians have used statistical science to solve these problems — it teaches us how we too can think like statisticians. We learn how to clarify our questions, assumptions, and expectations when approaching a problem, and — perhaps even more importantly -- we learn how to responsibly interpret the answers we receive.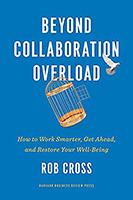 Beyond Collaboration Overload: How to Work Smarter, Get Ahead, and Restore Your Well-Being by Rob Cross
Most organizations have created always-on work contexts that are burning people out and hurting performance rather than delivering productivity, innovation and engagement. Collaborative work consumes 85% of employees' time and is drifting earlier into the morning, later into the night, and deeper into the weekend. The dilemma is that we all need to collaborate more to create effective organizations and vibrant careers for ourselves. But conventional wisdom on teamwork and collaboration has created too much of the wrong kind of collaboration, which hurts our performance, health and overall well-being.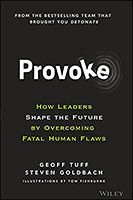 Provoke: How Leaders Shape the Future by Overcoming Fatal Human Flaws by Geoff Tuff and Steven Goldbach, Illustrated by Tom Fishburne
In Provoke: How Leaders Shape the Future by Overcoming Fatal Human Flaws, renowned strategy consultants and best-selling authors Geoff Tuff and Steven Goldbach deliver an insightful exploration of how people tend to act tentatively in the face of uncertainty and provide the tools we need to do things differently. Tuff and Goldbach offer up a compelling argument for the proposition that taking a "wait and see" approach is the exact opposite of what helps visionary leaders change the world. Drawing on principles from business and behavioral economics, the book shows readers from all walks of life how to provoke action as a mechanism to advance.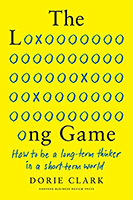 The Long Game: How to Be a Long-Term Thinker in a Short-Term World by Dorie Clark
Your personal goals need a long-term strategy. Just as CEOs who optimize for quarterly profits often fail to make the strategic investments necessary for long-term growth, the same is true in our own personal and professional lives. We need to reorient ourselves to see the big picture so we can tap into the power of small changes that, made today, will have an enormous and disproportionate impact on our future success. We need to start playing The Long Game. Everyone is allotted the same twenty-four hours — but with the right strategies, you can leverage those hours in more efficient and powerful ways than you ever imagined. It's never an overnight process, but the long-term payoff is immense: to finally break out of the frenetic day-to-day routine and transform your life and your career.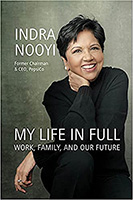 My Life in Full: Work, Family, and Our Future by Indra Nooyi
For a dozen years as one of the world's most admired CEOs, Indra Nooyi redefined what it means to be an exceptional leader. The first woman of color and immigrant to run a Fortune 50 company — and one of the foremost strategic thinkers of our time — she transformed PepsiCo with a unique vision, a vigorous pursuit of excellence, and a deep sense of purpose. Now, in a rich memoir brimming with grace, grit, and good humor, My Life in Full offers a firsthand view of Nooyi's legendary career and the sacrifices it so often demanded.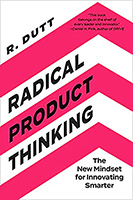 Radical Product Thinking: The New Mindset for Innovating Smarter by Radhika Dutt
Iteration rules product development, but it isn't enough to produce dramatic results. This book champions Radical Product Thinking, a systematic methodology for building visionary, game-changing products. When we iterate without a clear vision or strategy, our products become bloated, fragmented, and driven by irrelevant metrics. They catch "product diseases" that often kill innovation. Radical Product Thinking (RPT) gives organizations a repeatable model for building world-changing products. The key? Being vision-driven instead of iteration-led. Radhika Dutt guides readers through the five elements of the methodology (vision, strategy, prioritization, execution and measurement, and culture) to develop a clear process for translating vision into reality, and turning RPT skills into muscle memory.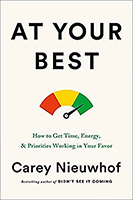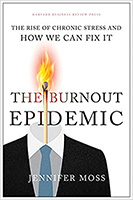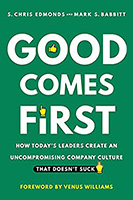 For bulk orders call 1-626-441-2024

Build your leadership library with these specials on over 28 titles. All titles are at least 40% off the list price and are available only in limited quantities.
* * *
"There's a lot to learn from the right leadership books. If you think you know it, think again. Ask those you trust what books have inspired them, and dig in. Always have at least one book going."
* * *


Like us on
Instagram
and
Facebook
for additional leadership and personal development ideas.

Posted by Michael McKinney at 06:36 PM
Permalink | Comments (0) | This post is about Books