10 Books You Should Read This Summer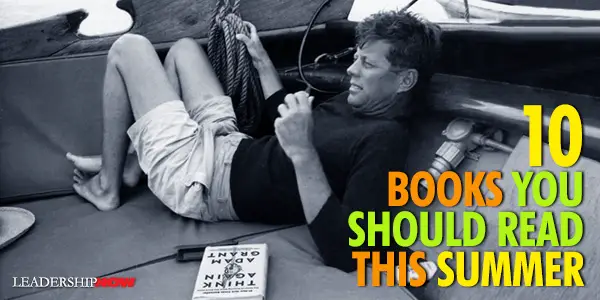 LIKE HIS MOTHER Rose, John Kennedy believed that reading constituted the most important instrument of knowledge. JFK's advisor Ted Sorensen said he read widely on history, biography, and politics. "But he had little interest in abstract theories. He primarily sought truths upon which he could act and ideas he could use in his office."
Reading gives us a chance to reflect on our lives, grow our knowledge, and become more creative. Never threatened by opposing views, Kennedy welcomed new and even controversial perspectives. He stated in the Saturday Review magazine in October 1960:
If this nation is to be wise as well as strong, if we are to achieve our destiny, then we need more new ideas for more wise men reading more good books in more public libraries. These libraries should be open to all—except the censor. We must know all the facts and hear all the alternatives and listen to all the criticisms. Let us welcome controversial books and controversial authors. For the Bill of Rights is the guardian of our security as well as our liberty.
With a few extra hours of daylight, the summer is an ideal time to relax and read. Listed below are ten books released this year that will entertain, make you think, and improve your leadership. Pick at least three and take some time to make yourself better this summer.*

Think Again: The Power of Knowing What You Don't Know
by Adam Grant
To think again may make us uncomfortable. But rethinking can also help us find solutions to old problems, deepen our perspective, release us from inherited dogma and other people's opinions, and understand how our closely held values relate and are applied to our changing environment. As JFK advised in the statement above, our challenge is to listen to others and to rethink those deeply held ideas and beliefs that tend to divide us—especially those ideas that we have blindly accepted from others.

The CEO Test: Master the Challenges That Make or Break All Leaders
by Adam Bryant and Kevin Sharer
This book discusses seven tests that all leaders face in one form or another. Their goal in writing the book is "to start conversations, not end them, and to provide guidance and frameworks to help refine your thinking and strategies on the aspects of leadership that matter most."

Noise: A Flaw in Human Judgment
by Daniel Kahneman, Olivier Sibony and Cass R. Sunstein
Wherever there is judgment, there is noise. Noise is a hidden force that clouds our judgment and undermines our decisions. It is variability in judgments that should be identical. We can make better choices by reducing both noise and bias by following the prescriptions offered here.

How to Change: The Science of Getting from Where You Are to Where You Want to Be
by Katy Milkman
Change comes most readily when you turn an uphill battle into a downhill one. You will learn methods for identifying and overcoming common barriers to change, such as impulsivity, procrastination, and forgetfulness. This book will help you reshape your environment and improve your trajectory by utilizing fresh starts and cues, building flexible habits, and more.

Decoding Greatness: How the Best in the World Reverse Engineer Success
by Ron Friedman
We are told to work smarter, not harder. Friedman will show you how. By reverse engineering what has worked for others, we can unlock patterns that will work in our own lives. How do you take apart a work you admire, enabling you to extract its formula and unleash your own creative juices?

Grace Notes: Leading in an Upside-Down World
by John Baldoni
Baldoni reflects on the practical application of grace. Over the course of the last year, he has collected his thoughts on the response to the pandemic and its implications. These notes touch on many elements of what it means to be a good citizen, a friend, and a leader. A quick read but plenty to meditate on.

Be Where Your Feet Are: Seven Principles to Keep You Present, Grounded, and Thriving
by Scott O'Neil
Instead of looking for balance, learn to be where your feet are. Finding balance is "like aspiring to be in the middle." On the other hand, "being present, focused, committed, and hardworking at home and at work is the path to finding success and fulfillment."

The Bomber Mafia: A Dream, A Temptation, and The Longest Night of the Second World War
by Malcolm Gladwell
Gladwell asks, "How is it that, sometimes, for any number of unexpected and random reasons, technology slips away from its intended path?" The Bomber Mafia held to their belief. "They persisted, even in the face of technology's inevitable misdirection, even when abandoning their dream offered a quicker path to victory, even when Satan offered them all the world if only they would renounce their faith. Without persistence, principles are meaningless. Because one day your dream may come true. And if you cannot keep that dream alive in the interim, then who are you?"

High Conflict: Why We Get Trapped and How We Get Out
by Amanda Ripley
When the conversation changes from a discussion of ideas to a battle between good and evil—you're good they're bad—then the game changes, and we feel increasingly certain of our own superiority and, at the same time, more and more mystified by the other side. It doesn't have to be this way. You can rehumanize the other side, restore your curiosity, and break free from outrage.

Subtract: The Untapped Science of Less
by Leidy Klotz
The pressure is always to have more. So we keep adding more and more. We add tasks, commitments, and possessions while neglecting to subtract any. Ironically, the secret to having more is to subtract. Make a "To Don't" list. The summer is an excellent time to ask yourself what you could take away to have more.
* * *
*
If you struggle to read or doubt the immense payoff for doing so, you might pick up Jeff Brown and Jesse Wisnewski's
Read to Lead: The Simple Habit That Expands Your Influence and Boosts Your Career
(August 2021).
* * *


Like us on
Instagram
and
Facebook
for additional leadership and personal development ideas.

Posted by Michael McKinney at 12:04 AM
Permalink | Comments (0) | This post is about Books