Leading Thoughts for July 1, 2021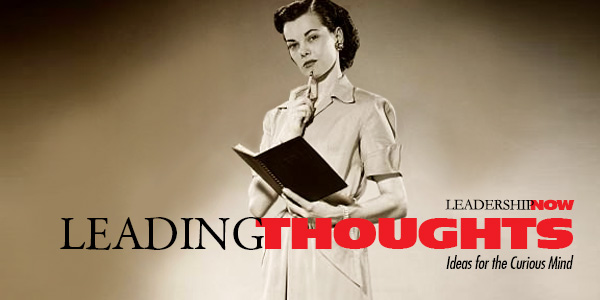 IDEAS shared have the power to expand perspectives, change thinking, and move lives. Here are two ideas for the curious mind to engage with:
I.
Former Chairman and CEO of Pepsico, Indra Nooyi, on assuming positive intent:
"My father was an absolutely wonderful human being. From him, I learned to always assume positive intent. Whatever anybody says or does, assume positive intent. You will be amazed at how your whole approach to a person or problem becomes very different. When you assume negative intent, you're angry. If you take away that anger and assume positive intent, you will be amazed. Your emotional quotient goes up because you are no longer almost random in your response. You don't get defensive. You don't scream. You are trying to understand and listen because at your basic core you are saying, 'Maybe they are saying something to me that I'm not hearing.' So, assume positive intent has been a huge piece of advice for me."
Source: Fortune, "The Best Advice I Ever Got"
II.
Director, producer, and screenwriter Steven Spielberg on collaboration. In the interview he was asked, "What keeps you excited about making movies?":
"I get that same queasy, nervous, thrilling feeling every time I go to work. That's never worn off since I was 12 years-old with my dad's 8-millimeter movie camera. The thrill hasn't changed at all. In fact, as I've gotten older, it's actually increased, because now I appreciate the collaboration.

"When I was a kid, there was no collaboration. It's you with a camera bossing your friends around. But as an adult, filmmaking is all about appreciating the talents of the people you surround yourself with and knowing you could never have made any of these films by yourself.

"My job was constantly to keep a movie family going. I'm blessed with the same thing that John Ford and Howard Hawks and Alfred Hitchcock were blessed with, a mini-industry very similar to the one from the golden era of Hollywood, where it was the same people making movies with you each and every time. And it makes life so much more enjoyable when you get to go home to your family and go to work with your other family. "
Source: The New York Times, "The Adventures of Spielberg: An Interview" by Mekado Murphy, December 20, 2011
* * *
Look for these ideas every Thursday on the Leading Blog. Find more ideas on the LeadingThoughts index.
* * *


Like us on
Instagram
and
Facebook
for additional leadership and personal development ideas.

Posted by Michael McKinney at 12:08 AM
Permalink | Comments (0) | This post is about Leading Thoughts