Leading Thoughts for June 3, 2021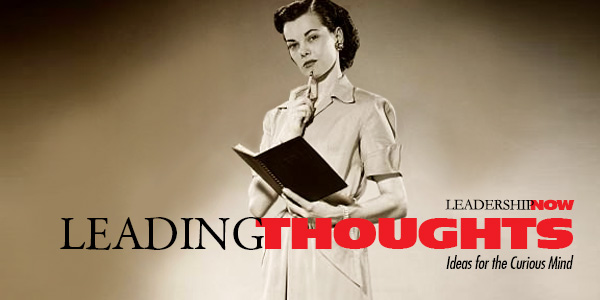 IDEAS shared have the power to expand perspectives, change thinking, and move lives. Here are two ideas for the curious mind to engage with:
I.
Andrew and Nada Kakabadse and Linda Lee-Davies on knowing when to act as well as being in the right place at the right time:
"What makes a leader great in one situation could make them incompetent in another and the increasing pace of change in today's business environment means then that different qualities will not only be needed at different times but also more quickly and drastically. Perhaps then, it is the ability to provide the appropriate leadership qualities and skills at the appropriate time that s secret to being great. Perhaps, it is the ability to which from the transactional needs of the business to the transformational thinking which links the followers toward the future which is key to successful timing."
Source: Leading for Success: The Seven Sides to Great Leaders
II.
Pete Davis on a culture of infinite browsing:
"I've come to believe that this is the defining characteristic of my generation: keeping our options open.

The Polish philosopher Zygmunt Bauman has a great phrase for what I'm talking about: liquid modernity. We never want to commit to any one identity or place or community, Bauman explains, so we remain like liquid, in a state that can adapt to fit any future shape. And it's not just us—the world around us remains like liquid, too. We can't rely on any job or role, idea or cause, group or institution to stick around in the same form for long—and they can't rely on us to do so, either. That's liquid modernity: It's Infinite Browsing Mode, but for everything in our lives."
Source: Dedicated: The Case for Commitment in an Age of Infinite Browsing
* * *
Look for these ideas every Thursday on the Leading Blog. Find more ideas on the LeadingThoughts index.
* * *


Like us on
Instagram
and
Facebook
for additional leadership and personal development ideas.

Posted by Michael McKinney at 08:50 AM
Permalink | Comments (0) | This post is about Leading Thoughts