The Best Leadership Books of 2020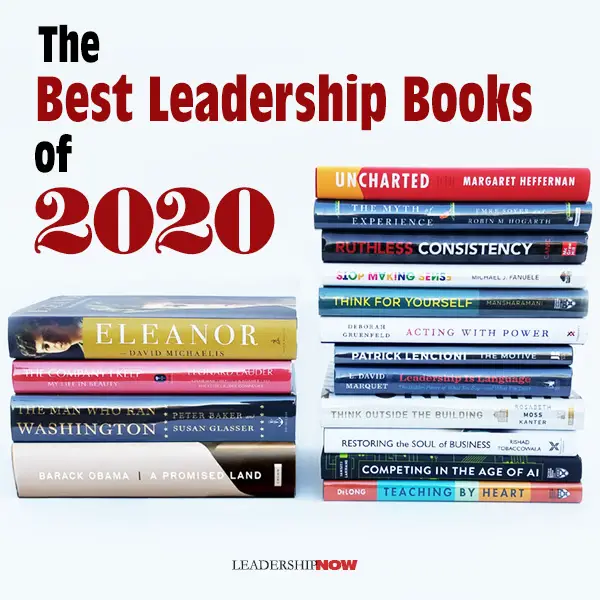 2020 has tested us. It has illuminated our strengths and exposed our vulnerabilities. It has called on us to reinvent and transform. It has called on us to learn to think better.
In the list below, you will find resources to help you do just that—think better. Certainty is out. Complexity is in. We can't repeat our experiences, but we can extract the lessons and principles and apply them to the changing circumstances of our non-linear world.
The more we use technology and outsourced thinking, we diminish our ability to think for ourselves. Common sense no longer helps us connect the dots. Other people's agenda becomes our narrative.
Patrick Lencioni asks the most fundamental question of all: Why are you leading? Too many lead for the sake of position and power and what that entitles them to. Gruenfeld reminds us that we have more power than we think no matter where we are in life.
All of the resources below are designed to help us think better and therefore perform better as leaders and guides.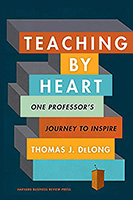 Teaching by Heart: One Professor's Journey to Inspire
by Thomas J. DeLong

(Harvard Business Review Press, 2020)

Teaching by Heart summarizes the author's key insights gained from more than forty years of teaching and managing. It illustrates how teachers can both lift people up and let them down. It proposes that the best teachers are also leaders, and the best leaders are also teachers. In examining how to lead and teach, renowned Harvard Business School professor Thomas J. DeLong takes the reader inside his own head and heart. He notes that, as teachers, we often focus more on our inadequacies and missteps than on our strengths and unique talents. He explains why this is so by dissecting and analyzing his own experiences—using himself as a case study. (Blog Post)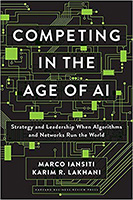 Competing in the Age of AI: Strategy and Leadership When Algorithms and Networks Run the World
by Marco Iansiti and Karim R. Lakhani

(Harvard Business School Press, 2020)

AI-centric organizations exhibit a new operating architecture, redefining how they create, capture, share, and deliver value. Marco Iansiti and Karim R. Lakhani show how reinventing the firm around data, analytics, and AI removes traditional constraints on scale, scope, and learning that have restricted business growth for hundreds of years. From Airbnb to Ant Financial, Microsoft to Amazon, research shows how AI-driven processes are vastly more scalable than traditional processes, allow massive scope increase, enabling companies to straddle industry boundaries, and create powerful opportunities for learning--to drive ever more accurate, complex, and sophisticated predictions. (Blog Post)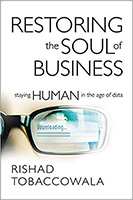 Restoring the Soul of Business: Staying Human in the Age of Data
by Rishad Tobaccowala

(HarperCollins Leadership, 2020)

Named by Time as a top five marketing innovator, Rishad Tobaccowala draws on research and interviews, as well as over three decades of experience as a business and thought leader, to describe how digilog companies—ones where digital tools and analog people are integrated expertly—develop a hybrid consciousness and learn to be proactive when they see warning signs that human traits are being subordinated to technology and data only decisions. Restoring the Soul of Business provides practical tools and techniques that every organization can and should implement, and challenges readers to move forward with the kind of balance that catalyzes transformation and produces one great success after another. (Blog Post)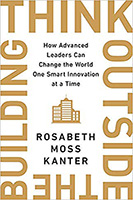 Think Outside the Building: How Advanced Leaders Can Change the World One Smart Innovation at a Time
by Rosabeth Moss Kanter

(PublicAffairs, 2020)

One of the leading business thinkers in the world offers a bold, new theory of advanced leadership for tackling the world's complex, messy, and recalcitrant social and environmental problems. When traditional approaches are inadequate or resisted, advanced leadership skills are essential. In this book, Kanter shows how people everywhere can unleash their creativity and entrepreneurial adroitness to mobilize partners across challenging cultural, social, and political situations and innovate for a brighter future. (Blog Post)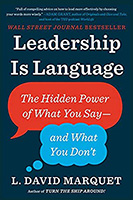 Leadership Is Language: The Hidden Power of What You Say — and What You Don't
by L. David Marquet

(Portfolio, 2020)

In his last book, Turn the Ship Around!, Marquet told the incredible story of abandoning command-and-control leadership on his submarine and empowering his crew to turn the worst performing submarine to the best performer in the fleet. Now, with Leadership is Language he gives businesspeople the tools they need to achieve such transformational leadership in their organizations. (Blog Post)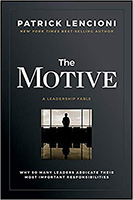 The Motive: Why So Many Leaders Abdicate Their Most Important Responsibilities
by Patrick Lencioni

(Jossey-Bass, 2020)

New York Times best-selling author Patrick Lencioni has written a dozen books that focus on how leaders can build teams and lead organizations. In The Motive, he shifts his attention toward helping them understand the importance of why they're leading in the first place. In what may be his edgiest page-turner to date, Lencioni thrusts his readers into a day-long conversation between rival CEOs. Shay Davis is the CEO of Golden Gate Alarm, who, after just a year in his role, is beginning to worry about his job and is desperate to figure out how to turn things around. With nowhere else to turn, Shay receives some hard-to-swallow advice from the most unlikely and unwanted source—Liam Alcott, CEO of a more successful security company and his most hated opponent. Lencioni uses unexpected plot twists and crisp dialogue to take us on a journey that culminates in a resolution that is as unexpected as it is enlightening. (Blog Post)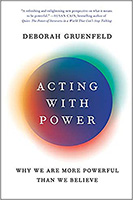 Acting with Power: Why We Are More Powerful Than We Believe
by Deborah Gruenfeld

(Currency, 2020)

Grounded in over two decades worth of scientific research and inspired by the popular class of the same name at Stanford's Graduate School of Business, Acting with Power offers a new and eye-opening paradigm that overturns everything we thought we knew about the nature of power. Although we all feel powerless sometimes, we have more power than we tend to believe. That's because power exists in every relationship, by virtue of the roles we play in others' lives. But it isn't a function of status or hierarchy. Rather, it's about how much we are needed, and the degree to which we fulfill our responsibilities. Power isn't a tool for self-enhancement or a resource for personal consumption. It's a part you play in someone else's story. (Blog Post)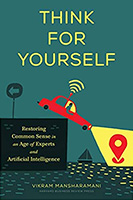 Think for Yourself: Restoring Common Sense in an Age of Experts and Artificial Intelligence
by Vikram Mansharamani

(Harvard Business School Press, 2020)

Have you ever followed your GPS device to a deserted parking lot? Or unquestioningly followed the advice of an expert—perhaps a doctor or financial adviser—only to learn later that your own thoughts and doubts were correct? And what about the stories we've all heard over the years about sick patients—whether infected with Ebola or COVID-19—who were sent home or allowed to travel because busy staff people were following a protocol to the letter rather than using common sense? Why and how do these kinds of things happen? As Harvard lecturer and global trend watcher Vikram Mansharamani shows in this eye-opening and perspective-shifting book, our complex, data-flooded world has made us ever more reliant on experts, protocols, and technology. Too often, we've stopped thinking for ourselves. Mansharamani illustrates how in a very real sense we have outsourced our thinking to a troubling degree, relinquishing our autonomy. (Blog Post)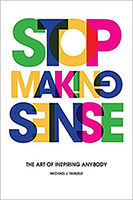 Stop Making Sense: The Art of Inspiring Anybody
by Michael J. Fanuele

(Post Hill Press, 2020)

There are a million books that can inspire you. This one will make you inspiring. In this fun and provocative page-turner, Michael Fanuele, one of the world's most successful marketing strategists, shares The Six Skills of Inspiration. With insights from music, politics, business, neuroscience, and a recipe for radishes, Stop Making Sense shares the creative blueprint that can unleash the inspiring leader in all of us. (Blog Post)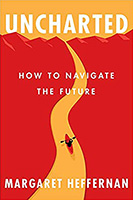 Uncharted: How to Navigate the Future
by Margaret Heffernan

(Simon & Schuster, 2020)

How can we think about the future? What do we need to do—and who do we need to be? We are addicted to prediction, desperate for certainty about the future. But the complexity of modern life won't provide that; experts in forecasting are reluctant to look more than 400 days out. History doesn't repeat itself and even genetics won't tell you everything you want to know. Tomorrow remains uncharted territory, but Heffernan demonstrates how we can forge ahead with agility. Drawing on a wide array of people and places, Uncharted traces long-term projects that shrewdly evolved over generations to meet the unpredictable challenges of every new age. Heffernan also looks at radical exercises and experiments that redefined standard practices by embracing different perspectives and testing fresh approaches. Preparing to confront a variable future provides the antidote to passivity and prediction. (Blog Post)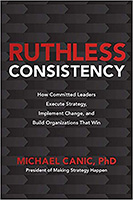 Ruthless Consistency: How Committed Leaders Execute Strategy, Implement Change, and Build Organizations That Win
by Michael Canic

(McGraw-Hill Education, 2020)

According to Harvard Business Review, "most studies still show a 60-70% failure rate for organizational change projects-a statistic that has stayed constant from the 1970s to the present." Drawing on his 20+ years of experience as a strategy and execution consultant specializing in midsize companies, Michael Canic helps committed leaders drive the odds in their favor. In Ruthless Consistency, he identifies the three surprising reasons most strategic change initiatives fail. Simply put, leaders who develop the right focus, create the right environment, and build the right team-consistently-are leaders whose organizations win. Finally, it details each element of the model and offers ready-to-apply processes, practices, techniques, and tools to make it happen. It's a must-read for every leader who wants to implement change successfully. (Blog Post)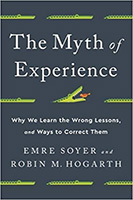 The Myth of Experience: Why We Learn the Wrong Lessons, and Ways to Correct Them
by Emre Soyer and Robin Hogarth

(PublicAffairs, 2020)

Our personal experience is key to who we are and what we do. We judge others by their experience and are judged by ours. Society venerates experience. From doctors to teachers to managers to presidents, the more experience the better. It's not surprising then, that we often fall back on experience when making decisions, an easy way to make judgements about the future, a constant teacher that provides clear lessons. Yet, this intuitive reliance on experience is misplaced. In The Myth of Experience, behavioral scientists Emre Soyer and Robin Hogarth take a transformative look at experience and the many ways it deceives and misleads us. From distorting the past to limiting creativity to reducing happiness, experience can cause misperceptions and then reinforce them without our awareness. Instead, the authors argue for a nuanced approach, where a healthy skepticism toward the lessons of experience results in more reliable decisions and sustainable growth. (Blog Post)



Biographies: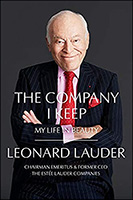 The Company I Keep: My Life in Beauty
by Leonard A. Lauder

(Harper Business, 2020)

In his much-anticipated memoir, The Company I Keep: My Life in Beauty, Chairman Emeritus and former CEO of The Estée Lauder Companies Leonard A. Lauder shares the business and life lessons he learned as well as the adventures he had while helping transform the mom-and-pop business his mother founded in 1946 in the family kitchen into the beloved brand and ultimately into the iconic global prestige beauty company it is today. (Blog Post)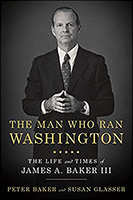 The Man Who Ran Washington: The Life and Times of James A. Baker III
by Peter Baker and Susan Glasser

(Doubleday, 2020)

For a quarter-century, from the end of Watergate to the aftermath of the Cold War, no Republican won the presidency without his help or ran the White House without his advice. James Addison Baker III was the indispensable man for four presidents because he understood better than anyone how to make Washington work at a time when America was shaping events around the world. The Man Who Ran Washington is a page-turning portrait of a power broker who influenced America's destiny for generations. His story is a case study in the acquisition, exercise, and preservation of power in late twentieth-century America and the story of Washington and the world in the modern era--how it once worked and how it has transformed into an era of gridlock and polarization. This masterly biography by two brilliant observers of the American political scene is destined to become a classic.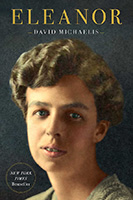 Eleanor
by David Michaelis

(Simon & Schuster, 2020)

In the first single-volume cradle-to-grave portrait in six decades, acclaimed biographer David Michaelis delivers a stunning account of Eleanor Roosevelt's remarkable life of transformation. An orphaned niece of President Theodore Roosevelt, she converted her Gilded Age childhood of denial and secrecy into an irreconcilable marriage with her ambitious fifth cousin Franklin. Despite their inability to make each other happy, Franklin Roosevelt transformed Eleanor from a settlement house volunteer on New York's Lower East Side into a matching partner in New York's most important power couple in a generation.




* * *


Like us on
Instagram
and
Facebook
for additional leadership and personal development ideas.

Posted by Michael McKinney at 12:02 AM
Permalink | Comments (0) | This post is about Books