Leading Thoughts for October 22, 2020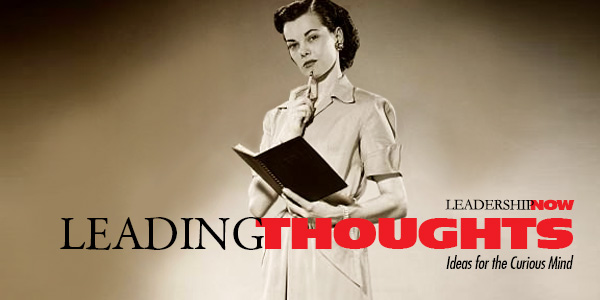 IDEAS shared have the power to expand perspectives, change thinking, and move lives. Here are two ideas for the curious mind to engage with:
I.
Entrepreneur and investor Sam Altman on the importance of value:
"All companies that grow really big do so in only one way: people recommend the product or service to other people.

What this means is that if you want to be a great company some day, you have to eventually build something so good that people will recommend it to their friends—in fact, so good that they want to be the first one to recommend it to their friends for the implied good taste. No growth hack, brilliant marketing idea, or sales team can save you long term if you don't have a sufficiently good product."
Source: The Only Way to Grow Huge
II.
East Rock Capital co-founder Graham Duncan on taking responsibility for your life:
"One great portfolio manager I know told the story of being driven somewhere by an analyst on a rainy night when a truck swerved and almost ran them off the road. 'Why is stuff like this always happening to me?' the analyst instinctively responded. But to the portfolio manager, that response reflected a terrible mindset, whether on the road or in the market: a sense that the world is acting on you as opposed to your acting on the world. It is a mindset that is hard to change. But from what I've seen, great investors don't have it. Instead, they've come to understand which factors in the market they can control and which factors they cannot."
Source: The Playing Field
* * *
Look for these ideas every Thursday on the Leading Blog. Find more ideas on the LeadingThoughts index.
* * *


Like us on
Instagram
and
Facebook
for additional leadership and personal development ideas.

Posted by Michael McKinney at 10:24 AM
Permalink | Comments (0) | This post is about Leading Thoughts