Three Questions We Have of All Leaders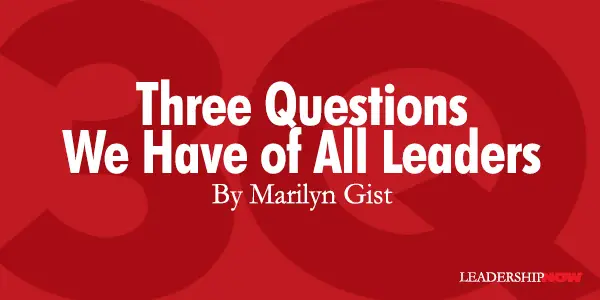 WHENEVER we work with leaders, we have our own important worries—things like fairness, the amount of change we're being asked to embrace, and our own personal goals. When you think about it, we have three prime questions when facing any leader. Whether they're asked aloud or merely observed, we evaluate leaders on these questions when deciding whether we want to follow along and to what extent: Who are you? Where are we going? Do you see me?
Because leadership requires working together, it's important for leaders to demonstrate humility (feeling and displaying deep regard for others' dignity) to create healthy working relationships. Let's look at how humble leaders provide positive answers to the three prime questions people have.
Who are you?
When people first meet us, they want to know who we are. This natural curiosity applies to leaders in a more penetrating way because leaders have power and influence. Two of the most important aspects of who you are that affect others' dignity are how your ego appears when you interact with people and the level of integrity you display.
Ego is commonly defined as our opinion of ourselves, especially of our own importance or ability. We notice whether leaders emphasize or minimize the status difference between us. Leaders with a balanced ego are aware of their power but confident enough in themselves that they prefer to minimize its unnecessary display.
In contrast with a balanced ego, leaders who display high ego tend to emphasize their status around others. They may even display arrogance, such as boasting about achievements, name-dropping, or being condescending to others. Their behaviors can harm others' dignity by hoisting their own sense of self-worth above that of others.
Integrity means being honest and having strong moral principles by behaving in ways that reflect a high standard of personal conduct, not only in work but also in our personal lives. In the context of work, integrity implies that the leader is authentic and honest in communication, ensuring that actions are consistent with words. This includes timely responses to inquiries and follow-through on appointments, and expected communication. It allows others to trust the leader to guide them well.
Where are we going?
People also want to know about the direction a leader is setting. Remember that leaders need to convert many types of stakeholders into followers, whether they're peers, customers, employees, suppliers, legislators, or community citizens. Setting direction well means establishing a compelling vision and ethical strategies.
Although business leaders are rightfully concerned with competitive advantage and profitability, employees and customers typically have other concerns or priorities. People want to feel proud of both the work they do and the cause(s) they serve. Visions are compelling when they serve a greater good.
Strategies are designed as the best paths to desired outcomes, but some leaders engage in unethical practices. There are news reports of leadership misdeeds almost daily; leaders who pursue unethical approaches display a significant lack of regard for the dignity of others.
Instead, people want to know that the way their organizations operate is ethical. Ethical strategies can be developed by carefully understanding business opportunities and aligning others to pursue those approaches. Leaders who do this respect others' dignity.
Some of the best strategies used by humble leaders involve competitive pricing, fair employee compensation, collaboration and integration of operations to minimize waste, and alignment of direction across the organization in ethical pursuit of business opportunity.
Do you see me?
"Do you see me?" may be the most critical question people have when asked to work with a leader. It implies: Do I matter to you? Am I merely a pawn for you to use in achieving your goals, or do you care about me as a person with my own interests and needs? How you treat people matters, and two of the most important behaviors are generous inclusion and developmental focus.
At its simplest, inclusion means inviting people to be part of the real action. Inclusion goes far beyond calling people together for staff meetings that simply provide face time or share routine reports. Instead, generous inclusion requires thinking about whom you're engaging, on what activities, and in what way—and genuinely inviting people to contribute to key decisions. This requires careful listening. It's also an important part of embracing organizational diversity.
Developmental focus implies long-term thinking. The power you hold can be used to support others' growth, neglect it, or sabotage it, and people are aware of this. Your role as a leader can and should involve helping others learn in many ways, such as understanding the values of your specific organizational culture, how to do their job better, and how to improve their knowledge, so they have a better chance to advance.
Creating a Healthy Workplace
The most promising path to optimizing organizational performance is to get people to put their very best energies behind a shared plan. Getting this type of alignment is easiest when people feel inspired by their leader. What leaders say and do is scrutinized, and their behavior answers the three prime questions others have.
When the answers are favorable, people grow inspired, are eager to join in the quest, and give it their all. Leader humility has a lot to do with how productive we will be together. Therefore, leader humility has a lot to do with how effective a leader can be.
* * *

Dr.
Marilyn Gist
is an expert on leader development. Her academic career spans the University of North Carolina at Chapel Hill; the University of Washington, where she held the Boeing Endowed Professorship of Business Management; and Seattle University, where she was formerly associate dean at the Albers School of Business and Economics and executive director of the Center for Leadership Formation. She speaks and consults with organizations worldwide, including Boeing, AT&T, Providence Health System, the Fred Hutchinson Cancer Research Center, and NASA. Her new book is
The Extraordinary Power of Leader Humility: Thriving Organizations—Great Results
. Learn more at
MarilynGist.com
.
* * *


Like us on
Instagram
and
Facebook
for additional leadership and personal development ideas.
* * *


Posted by Michael McKinney at 11:46 AM
Permalink | Comments (0) | This post is about Leadership