Leading Thoughts for July 23, 2020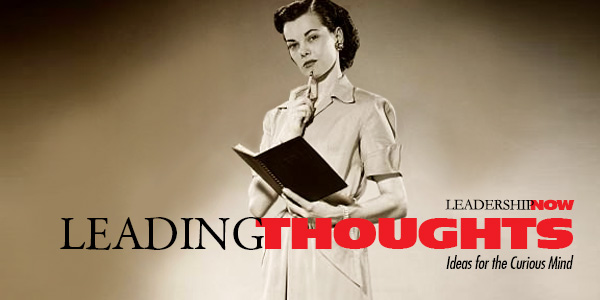 IDEAS shared have the power to expand perspectives, change thinking, and move lives. Here are two ideas for the curious mind to engage with:
I.
James MacGregor Burns on the changing dynamic of political leadership:
"American leadership went into decline after the revolution. The leaders were generally the same men, many far-famed and even venerated, but they were projected now into a different situation. They had been united behind transcending goals. Now they were divided over mundane policies. They had offered a striking example of bold, collective—even transforming—leadership. Now they were expected to practice piecemeal, transactional leadership."
Source: Fire and Light: How the Enlightenment Transformed Our World
II.
Frank Partnoy on the need for reflection:
"Life might be a race against time, but it is enriched when we rise above our instincts and stop the clock to process and understand what we are doing and why. A wise decision requires reflection, and reflection requires a pause."
Source: Wait: The Art and Science of Delay
* * *
Look for these ideas every Thursday on the Leading Blog. Find more ideas on the LeadingThoughts index.
* * *


Like us on
Instagram
and
Facebook
for additional leadership and personal development ideas.

Posted by Michael McKinney at 05:36 PM
Permalink | Comments (0) | This post is about Leading Thoughts