10 Signs Your Leadership Might Be All About You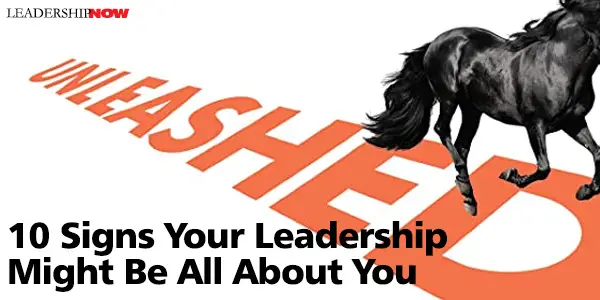 LEADERSHIP is never about me, but it is all too easy to make it about me. Frances Frei and Anne Morriss have written Unleashed to help us fix our perspective on unleashing the potential of those we lead.
They have listed ten warning signs that you might be getting in your own way as a leader (or any other relationship for that matter):
What other people experience rarely occurs to you. Be curious about what other people are thinking, feeling, and doing.
You don't ask very many questions. If you don't feel the impulse to ask other people questions, it's a good sign you are probably stuck in your own head.
The most interesting thing about other people is what they think of you. People are more than the sum total of what they think about you. They have other thoughts and ideas. Check them out.
You're constantly updating a catalogue of your own weaknesses, limitations, and imperfections. The insecurity that leads to being overly critical of yourself can only diminish your influence and weaken your relationships.
Other people's abilities bum you out. If unleashing other people's potential is your goal, their strengths are your assets and the answer to your challenges.
You're constantly in crisis. If this is you, you need to pull back and see the bigger picture and begin leading and empowering others.
You're pessimistic about the future. Leadership is about leading yourself and others to a better place. If you're pessimistic, you've got nowhere to go.
Reality has become tedious. If you can't see the possibilities, you've lost sight of the mission and your purpose. You need to go back and ask yourself "why do I want to lead?"
Apathy and powerlessness are dominant emotions. Again, you need to pull back and begin to enlist the strengths of others.
You're the star of your own show. If this is the case, you are not "leading" for the right reasons. Instead, you need to try to start a fan club.
* * *


Like us on
Instagram
and
Facebook
for additional leadership and personal development ideas.
* * *


Posted by Michael McKinney at 01:32 PM
Permalink | Comments (0) | This post is about Leadership Development