Life's Great Question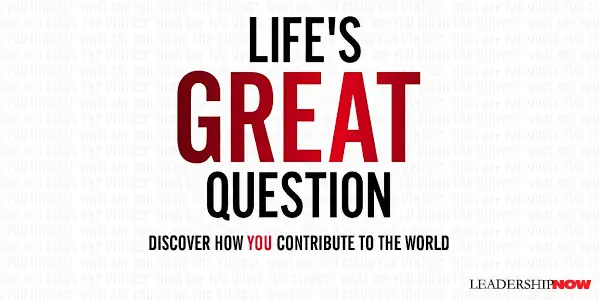 WE ALL want to leave a legacy. We all crave meaning in our lives. It's not just a millennial thing.
Meaning in life comes from the contributions we make beyond the self. Those contributions become your legacy.
All of this leads to life's greatest question: What are you doing for others? Tom Rath addresses this question head-on and presents a path for contribution—a map for creating meaning—in Life's Greatest Question.
While your talents are nature's best building blocks, they serve the world best when your efforts are directed outward—not inward. Being "anything you want" or "more of who you already are" doesn't add value to society unless it provides something others need. Simply put, your strengths and efforts must be focused on specific contributions you can make to other people's lives.
Work can be fun and improve our health if we can reframe what we do to how do I help. Reorient your thinking about what you do to how am I serving others—the "humanity of what we do." But rather than relying on your company to determine your contribution, "figuring out how you can make a greater contribution through your work has to be driven by you." In other words, "Great jobs are made, not found."

To that end, Rath introduces the Contribify inventory. It is "designed to help you gain a better understanding of who you are—for the sake of doing more for other people." Upon taking the inventory, you will come away with the top three areas that have the most potential for your contribution from a list of 12 primary Contributions: Initiating, Challenging, Teaching, Visioning, Connecting, Energizing, Perceiving, Influencing, Organizing, Achieving, Adapting, and Scaling.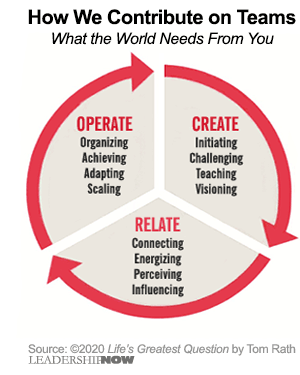 Each of these 12 primary Contributions is categorized within the three basic needs of all teams: Create, Operate, and Relate. "If a team is lacking in any one of these three major functions, it is almost impossible for the group to be effective, let alone thrive." Each of us has definite contributions we can make to the teams we serve. Understanding group contributions in this way helps us in at least three ways. First, it allows you to more effectively match who you are with what your team needs. Second, it helps to map out how diverse the team is an what the needs are who might need to be brought into fill in gaps. And third, individually we can see where we better see how we might maximize our efforts as we contribute to the team.
Rath makes a very good point regarding the obsession with passion. "Instead of following your passion, find your greatest contribution."
This is one of the critiques of the "follow your passion" advice—that it presumes you are the center of the world, and pursuing your own joy (not service of others) is he objective. I have found that those who leave a lasting mark on the world, in contrast, are always asking what they can give.
Life's Great Question
leaves you with a lot to think about and a structured way to go about it. It provides language to what is often a very nebulous exercise.
* * *


Like us on
Instagram
and
Facebook
for additional leadership and personal development ideas.
* * *


Posted by Michael McKinney at 03:33 PM
Permalink | Comments (0) | This post is about Personal Development