Leading Thoughts for March 12, 2020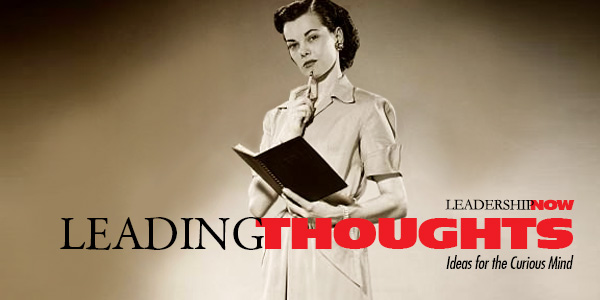 IDEAS shared have the power to expand perspectives, change thinking, and move lives. Here are two ideas for the curious mind to engage with:
I.
Erich Bühler on the persistence of old mental models:
"We generally stick to old mental models until new ways of thinking appear. During the change process, however, we tend to see the new only through the old lens. When the first motorized vehicles were built in the nineteenth century, cars looked more like carriages than automobiles. This was because people imagined them as an extension of horse-drawn transport. New ideas, concepts, and words were introduced, but old ways of thinking continued to be used to analyze and solve problems."
Source: Leading Exponential Change: Go Beyond Agile and Scrum to Run Even Better Business Transformations
II.
Betsy Myers on leadership is self-knowledge:
"Leadership is self-knowledge. Successful leaders are those who are conscious about their behavior and he impact it has on the people around them. They are willing to examine what behaviors of their own may be getting in the way. Successful leaders understand that it we don't lead consciously, it's easy to repeat patterns that could be keeping us from achieving the results we are hoping for. The toughest person you will ever lead is yourself. We can't effectively lead others unless we can lead ourselves."
Source: Take the Lead: Motivate, Inspire, and Bring Out the Best in Yourself and Everyone Around You
* * *
Look for these ideas every Thursday on the Leading Blog. Find more ideas on the LeadingThoughts index.
* * *


Like us on
Instagram
and
Facebook
for additional leadership and personal development ideas.
Posted by Michael McKinney at 10:11 AM
Permalink | Comments (0) | This post is about Leading Thoughts