Leading Thoughts for March 5, 2020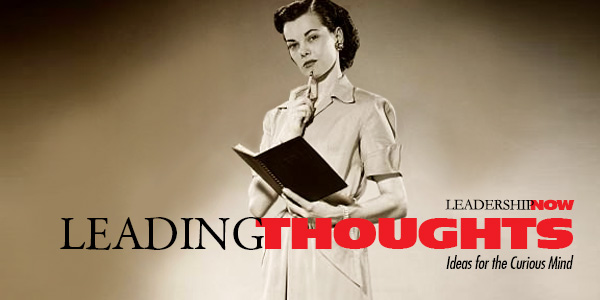 IDEAS shared have the power to expand perspectives, change thinking, and move lives. Here are two ideas for the curious mind to engage with:
I.
Robert E. Quinn on the connection between changing a system and understanding it:
"Kurt Lewin argued that we cannot really begin to understand a system until we try to change it. He understood that individual as well as collective scripts would stay hidden until the normal way that the organization operates is challenged. As soon as a change agent introduces a variation to that system, he or she will quickly learn about the scripts that are holding that system together. Once the scripts are brought to the light they tell us a lot about how that system handles variations."
Source: Change the World: How Ordinary People Can Accomplish Extraordinary Results
II.
Change consultant David Jones on the challenges to expect when initiating change:
"Once you get past the novelty of a change, you'll find that every system in your organization is set up to reject it. You've got to have the resolve, the courage, and the fortitude to see change through that part of the process, because it's the most difficult part of the transition. You'll only accomplish that if you're able to successfully communicate why you're changing, how it will be measured, why it is critical, and why people need to get on board and make it successful. It's easy to get out of touch with the emotions of the people most affected by change."
Source: Decade of Change: Managing in Times of Uncertainty
* * *
Look for these ideas every Thursday on the Leading Blog. Find more ideas on the LeadingThoughts index.
* * *


Like us on
Instagram
and
Facebook
for additional leadership and personal development ideas.
Posted by Michael McKinney at 09:21 AM
Permalink | Comments (0) | This post is about Leading Thoughts