Leading Matters: John L. Hennessy on the Leadership Journey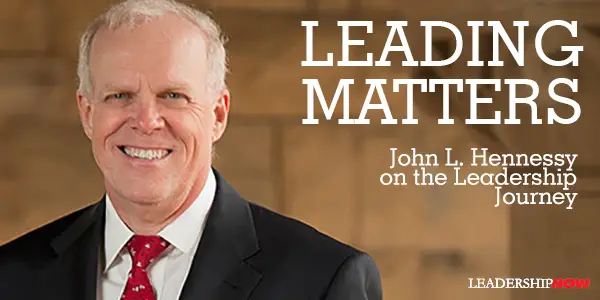 A
S A PROFESSOR, an entrepreneur, the president of Stanford University, and now the Chairman of the Board of Alphabet (Google's Parent company) and Director of Knight-Hennessy Scholars, John Hennessy has had a lot of leadership experience. In
Leading Matters
, he shares the stories of what worked and what didn't work.
Leading Matters is about the journey. The stories he tells here are revolve around the ten elements that shaped his journey and how he relied on these traits in pivotal moments. The elements are relevant to any leader at any level. As he observes, the higher up you go the crises just get bigger and come faster.

He begins by discussing the foundational elements: humility, authenticity, service, and empathy. He then links them together with courage. Finally, he shows how collaboration, innovation, intellectual curiosity, storytelling, and creating change that lasts, helped him reach his goals.
Here are some of his thoughts on each element extracted from his stories:
Humility
A true sense of one's own skills and character—arises not from ego, but from humility. Arrogance sees only strengths, ignores our weaknesses, and overlooks the strengths of others, therefore leaving us vulnerable to catastrophic mistakes.
Leading with humility means letting others announce your accomplishments because you don't need to, it means realizing and openly admitting that your understanding might not be right, it means taking the opportunity to learn from mistakes, and it means stepping up to the moments that challenge and grow you.
Authenticity and Trust
Authenticity is essential to building trust. Consider the wisdom popularly attributed to Socrates: "The way to a good reputation is to endeavor to be what you desire to appear." It's a start down the path to a deeper practice of authenticity—you must identify those good and true characteristics you admire, and then you must work to embody them.
So this is part of the practice: identify the virtue you admire, strive to embody them, and be humble about the journey—you probably aren't there yet. In fact, just when you think you've arrived, life has a way of returning you back to the beginning.
Leadership as Service
The larger one's leadership role becomes, the bigger the role of service in that leadership.
If you take a leadership role as a step toward a personal goal of gathering ever-greater titles, awards, and salaries, you will never see true success in that role.
Recognize the service of others. As a leader it is easy to get wrapped up in big projects and ambitious initiatives, and, in the process, to forget the smaller, but no less important, individual acts of service taking place all around you. Much of that service supports and enables the widely celebrated success of others.
Empathy
Empathy should always be a factor in making decisions and setting goals. Empathy represents a crucial check on action—placing a deep understanding of and concern for the human condition next to data can lead to decisions that support the wellbeing of all.
Empathy usually implies compassion and perhaps charity, but we are looking for more than that: we are looking for the kind of empathy that changes people as a result of their interactions with each other, the kind of empathy that arises when one sees the world anew through someone else's eyes.
Courage
Humility, authenticity, empathy, service-mindedness—these characteristics shape a leader's vision and chart a course toward right action. Courage, on the other hand, compels a leader to take that right action. While many people can discern what is right and true, acting on that discernment is more difficult.
Even if risk-taking is against your nature, for the good of your organization, you must find the courage to practice it.
Collaboration and Teamwork
Most significant endeavors will be accomplished by a team.
Certain ground rules circumvented interteam rivalries. First of all, I reminded everyone of our shared goal: we wanted to achieve something great. Further, to support innovative, cross-disciplinary thinking, I set a second ground rule: at the start, we don't criticize ideas. To this, I added a third ground rule: tough questions aren't only allowed, they are necessary. This led to my final ground rule: team members must be treated with the utmost respect.
Innovation
I can't tell you how many times I've had this conversation with students: the student opens with, "I want to create a start-up." I ask them to tell me about their technology, and they answer, "Well, I don't have it yet, but I want to do a start-up." I remind these students that great start-ups begin with great technology discoveries. Innovation presents great opportunities for smart entrepreneurs, not the other way around.
Intellectual Curiosity
Beyond personal enjoyment, though, this lifelong curiosity has served me well in my career. It has enabled me to engage in meaningful dialog about the world and its future.
Literature, biographies, and histories—they're like laboratories in which we can examine and learn critical lessons without having to live the difficulties ourselves.
In challenging moments, great leaders show their true character. …Their stories taught me if you can't take the blame for failure, you shouldn't take the job.
Storytelling
If you really want to inspire a team to action, best to engage them with a story. Once they become receptive—once they can imagine themselves as part of your vision—you can back your story up with facts and figures.
When you turn that dream into a vivid story, you make it so attractive and so real that people will want to share it with you by joining your team.
When it came time to respond to change, these companies moved quickly and efficiently, because every employee already understood the company identity and therefore knew how to respond without direct coaching.
In every profession and career, as we climb to higher leadership positions, the role of facts and data decreases.
Legacy
Instead of worrying about my legacy too much or too early, I'm choosing now—as I always have—to follow the path of making meaningful contributions.
Legacy means the institution serves people more effectively now than it did when you arrived.
* * *


Like us on
Instagram
and
Facebook
for additional leadership and personal development ideas.
* * *


Posted by Michael McKinney at 02:08 PM
Permalink | Comments (0) | This post is about Leadership Development , Personal Development , Teamwork