No Better Friend, No Worse Enemy.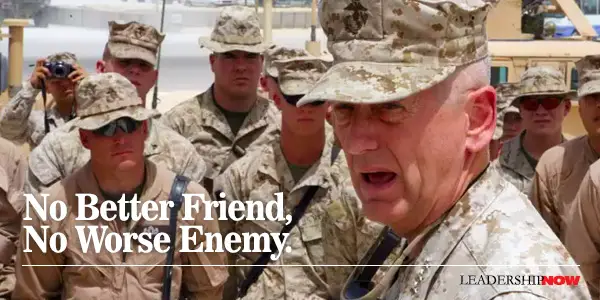 AFTER THE TERRORIST ATTACKS on September 11, 2001 and on the eve of the 2003 invasion of Iraq, Major General James Mattis needed to connect with every member of the 1st Marine Division. He writes, "I limited myself to one page they could carry with them, a message reconciling ferocity toward the foe with abiding concern for the innocents caught on the battlefield."
A letter like this serves to encourage, but it also provides what Mattis calls "commander's intent." Marines are aggressive, have a bias for action, and are trusted to act within the commander's intent. In other words, they are given direction and not a lot of instructions. Here's what we want to accomplish and why. Here's what we don't want to do, and why." It provides context to the action, explicit boundaries, and the trust to act and improvise in any way necessary within those boundaries to achieve the desired result.
This is easily applied to any team. This model of leadership encourages initiative and brings out individual talents, and more importantly, it demonstrates trust. It is one thing to say you trust your team. It is quite another thing to show them that you do.
He signs off with a phrase he made the motto of 1st Marines: "No Better Friend, No Worse Enemy." It was adapted from a remark attributed to the Roman general Lucius Cornelius Sulla, "No friend ever served me, and no enemy ever wronged me whom I have not repaid in full."
His letter to the Blue Diamond:
MARCH 2003
1st Marine Division (REIN)
Commanding General's Message to All Hands
For decades, Saddam Hussein has tortured, imprisoned, raped and murdered the Iraqi people; invaded neighboring countries without provocation; and threatened the world with weapons of mass destruction. The time has come to end his reign of terror. On your young shoulders rest the hopes of mankind.
When I give you the word, together we will cross the Line of Departure, close with those forces that choose to fight, and destroy them. Our fight is not with the Iraqi people, nor is it with members of the Iraqi army who choose to surrender. While we will move swiftly and aggressively against those who resist, we will treat all others with decency, demonstrating chivalry and soldierly compassion for people who have endured a lifetime under Saddam's oppression.
Chemical attack, treachery, and use of the innocent as human shields can be expected, as can other unethical tactics. Take it all in stride. Be the hunter, not the hunted: never allow your unit to be caught with its guard down. Use good judgement and act in best interests of our Nation.
You are part of the world's most feared and trusted force. Engage your brain before you engage your weapon. Share your courage with each other as we enter the uncertain terrain north of the Line of Departure. Keep faith in your comrades on your left and right and Marine Air overhead. Fight with a happy heart and strong spirit.
For the mission's sake, our country's sake, and the sake of the men who carried the Division's colors in past battles—who fought for life and never lost their nerve—carry out your mission and keep your honor clean. Demonstrate to the world there is "No Better Friend, No Worse Enemy" than a U.S. Marine.
J. N. Mattis
Major General, U.S. Marines
Commanding
* * *
In Call Sign Chaos, he recalls that he learned a lot from the British officers at that time. "I adapted their approach of showing no triumphalism—we had come to liberate, not dominate. We did not push our way around."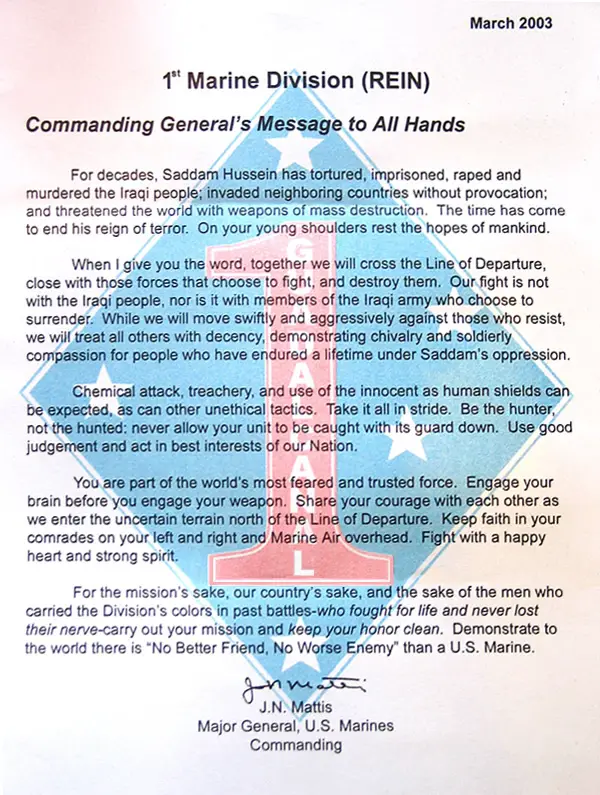 * * *


Like us on
Instagram
and
Facebook
for additional leadership and personal development ideas.
* * *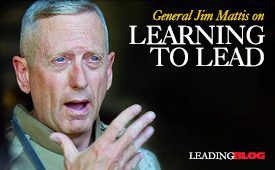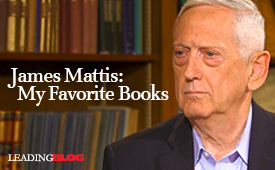 Posted by Michael McKinney at 08:12 PM
Permalink | Comments (0) | This post is about Leaders