Do You Trust Your People?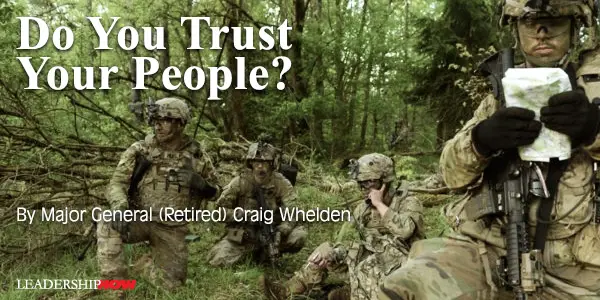 THE GREAT WRITER Ernest Hemingway once said: "The best way to find out if you can trust somebody is to trust them." I've often told people in new organizations I joined that I trust them until that trust is violated. This puts a healthy kind of pressure on them NOT to violate that trust. Stronger performance is often the result.
Here are two stories that demonstrate the value of trust: one that reflects what happens when there is no trust, and another that reflects the tremendous performance and learning that comes when there is trust.
When No Trust Exists
In 1992, I was the G3 (Operations Officer) for one of the Army's 10 Divisions – forward deployed in Europe. Within a year in the job, I led a military-to-military exchange trip to Hungary, one of the satellite countries of the former Soviet Union. The Cold War had ended, and we were now opening the aperture to Eastern European countries that had been coerced into the Warsaw Pact decades earlier by the strong arm of Russia.
After the Berlin Wall fell in 1989, General George Joulwan, the Supreme Allied Commander of all military forces in Europe, established a program called "Partnership for Peace" or PfP. His idea was to reach across the former Iron Curtain so new relationships could be forged between the U.S. and its former foes. The goal was to pull the Warsaw Pact nations out of Russia's sphere of influence and into ours.
My trip was the first such effort the U.S. military did with Hungary, and I was able to witness the difference in approaches to trust between the US military and the Eastern European military—and, by extension, the Russians, since Soviet satellite countries' military dogma mirrored the mother ship.
The Hungarians were truly trying to impress us when they showed us their weaponry, but they were seemingly unaware that the decades-old equipment they had was far inferior to ours if they had to face us in war. The Russians had given frontline nations in Eastern Europe the oldest and least capable equipment, saving the best for themselves. Soviet satellite countries such as Hungary, Czechoslovakia, Poland, and East Germany—rolled into the Soviet arc after World War II—were frankly viewed as cannon-fodder by the Russians.
Although I was only a lieutenant colonel at the time, I was treated like a general. Everywhere I turned, only officers (majors and above) were briefing us. They had little trust in their more junior officers and sergeants, like the U.S. places in our junior leaders. Russian influence was everywhere, and the lack of trust and regimentation contrasted sharply with the way the U.S. military operates, where mission orders are issued along with the commander's intent, thereby giving subordinates the freedom to operate within that framework. In the U.S. military, it's all about trust and empowerment. I saw little of that in Hungary.
A few months later, we reciprocated by bringing senior military leaders from Hungary to our bases in Germany. Most of these delegations consisted of colonels and generals. They were shocked when we turned them over to our sergeants (who actually gave the briefings) and even more shocked when we let them mingle with our troops—out of our earshot—to see what U.S. soldiers were really like.
General Joulwan's approach obviously worked, as a number of former Soviet Union countries are now members of the North Atlantic Treaty Organization (NATO): the Czech Republic, Poland, Bulgaria, Estonia, Latvia, Lithuania, Romania, Slovakia, Slovenia, Albania, Croatia, and Montenegro. And yes, Hungary.
When Trust Exists
I soon found myself on the list for both colonel and command. My boss called me in one day and told me that I had been selected to command a base. In fact, it was the base we were on: the 98th Area Support Group (ASG), headquartered right there in Wurzburg, Germany.
Though I knew little about running a base, it took me just a few months to realize this turn of events was the best thing that ever happened to me. Over 95 percent of my 3,000-person workforce was civilian, half were females, and an equal number were German nationals. I was like a "town mayor" serving more than 45,000 constituents and customers. My leadership style needed to adapt to this very different environment, or I would fail. I was joining THEIR team and needed to learn quickly how to adapt to THEIR environment.
Commanding a base required me to put trust, faith, and confidence in a workforce that knew much more about the tasks at hand than I did. I had to lead the team, but at the same time, I had to have confidence that their shared feedback and advice to me was of value. They needed to know that I trusted them.
The leadership skills I employed at that time had little to do with the technical aspects of running an Army base, but rather, those that required skills in simply leading people; something I had spent 20 years honing. I found myself praising and encouraging what was working well, and just as importantly, I sought to learn what was not working well and how we could make it better. It wasn't difficult sorting out the two, as all I had to do was pay attention to those on the receiving end of what we provided. Simply put, I listened to my "customers." They could be very vocal when something wasn't right. I understood this well since I too had been a customer of the community for the previous 18 months.
This very different experience helped me grow as a leader and prepared me for the rest of my time in uniform and beyond. One of the keys to my success was rooted in the trust I showed my team. It was paid back in exceptional performance.
It should be intuitive to most leaders that the higher you climb up the corporate ladder, the greater the reliance you must have on those below you. Support your team and let them do their job, and you'll be amazed at what they give back. That's what I tried to do in the 98th ASG, and it worked. It can work for you as well.
* * *

Major General (Retired) Craig Whelden
is the author of
Leadership: The Art of Inspiring People to Be Their Best
. This is an extract from Chapter Two: "Trusting Your People." Learn more about Craig, his book, and speaking opportunities at
www.craigwhelden.com
* * *


Like us on
Instagram
and
Facebook
for additional leadership and personal development ideas.
* * *


Posted by Michael McKinney at 09:10 AM
Permalink | Comments (0) | This post is about Leading Forum , Teamwork , Trust