Do You Need an Attitude Adjustment?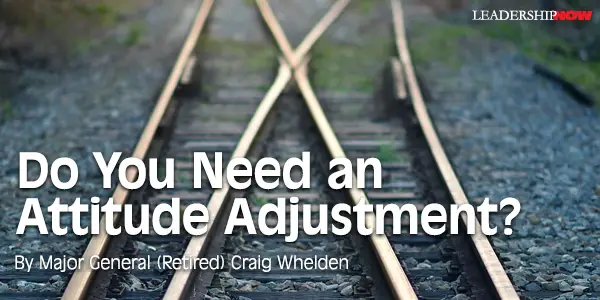 HAVING A POSITIVE ATTITUDE is a critical element of leadership. To some, this comes naturally. Others must constantly work on it. Since my earliest memory, I have had the sense that anything worth doing… worth pursuing… must be passionately pursued. A positive attitude naturally follows.
I found myself first assuming leadership responsibilities at age 14 when I became an Eagle Scout. Perhaps I was naïve, but the leadership aspect of this achievement was unexpected. For me, getting there was just a mountain to climb. It was the culmination of 21 merit badges and a large community project. It was the excitement of the journey, the arrival at a destination, and the achievement of the reward.
For me, at 14 years old, it was like reaching the top of Mount Everest but with no real thought (or plan) on how I was going to get back down… the part of the climb where most people die. Once there, I didn't quite know what to do with these newfound responsibilities when people started turning to me to lead. But it did help jump-start a lifelong journey to develop and sharpen my leadership skills—a journey that really never ends.
Great leaders constantly deal with the struggle between achieving personal goals, while doing so with humility. Ask yourself, "Do you want to achieve lofty goals in order to 'climb the mountain' or do you want to get on top of the mountain so that you can help others climb their own mountain?" How can you do both?
In high school, I held leadership roles in school government and on the sports field. In my senior year, I was voted "Best All-Around" and "Most Dependable"—the latter accolade drawing raised eyebrows from my parents! At Purdue University, I was President of the Freshman Council at the largest school dormitory, President of my Fraternity Pledge Class, and Vice President of Purdue's Interfraternity Council. (I ran for President, but was asked by the Council whether I would take the VP spot if not selected to be President. My agreement sealed my fate).
All these experiences helped shape my thinking about, and commitment to, leadership because people started to turn to me to lead. I had the right attitude throughout these early years. However, there came a period in college when I lost my way.
My attendance at Purdue was facilitated by an Army ROTC scholarship, at a time when the Vietnam War was stoking nationwide protests across nearly every college campus. Compared to other campuses, Purdue was a fairly conservative school, but we had a chapter of the Students for Democratic Society (SDS), and they regularly protested the war on the mall or at the Armory.
I had mixed feelings about the war when I arrived at Purdue in 1969, having spent most of my high school years in Europe—insulated from the anti-war movement. But since I had an ROTC scholarship and my dad was retiring from the Air Force and starting law school about the same time I entered college, I felt an obligation to stay in a program that was paying my way. I also worked 4 hours each evening (Monday - Friday) as a janitor, cleaning the second floor of the university library to help make ends meet.
Then an unfortunate event happened.
Because of my student government activities, my leadership role in the fraternity, and my work schedule (combined with ambivalence about the war), I didn't participate in any ROTC activities outside the classroom. Just walking across campus in uniform to attend military drills drew unwanted attention. So, when the annual Army ROTC awards ceremony occurred in the spring of my freshman year (1970), and knowing that I was not an award recipient, I decided to skip the ceremony and attend the SDS rally in the mall instead.
Not my brightest moment…
That day, after chanting "1-2-3-4, we don't want your F*#king War!" over and over again, a growing crowd of about 1,000 decided to march on the Armory, where the ROTC awards ceremony had been moved to insulate it from the protests.
I followed the crowd.
Upon arriving at the armory, they broke open the large truck-sized doors and entered, chanting loud and strong. State troopers in riot gear soon arrived to keep the protesters away from the formation of cadets.
I was not an active protest participant, and naively thought of myself as being in some kind of "intellectual exercise," but one of my instructors saw me, that day. He called me in the following morning and told me that my scholarship was being put on probation.
This was a wakeup call for me, and it began the reshaping of my attitude. I had to decide which side to be on. I came to realize that I wanted to be a leader more than a protestor. Like some other Americans, I may have thought that the Vietnam War was ill-advised, but I also realized that there were alternative ways to make my mark on the world.
When ROTC summer camp training rolled around between my junior and senior year, I spent nine weeks at Fort Riley and did well enough to become the third-ranking cadet at Purdue during my senior year. Upon graduation from Purdue in 1973, I was one of six cadets designated a Distinguished Military Graduate.
So, what should you take from this ROTC experience? In a nutshell: attitude counts. A lot.
There's something to be said about the oft-repeated mantra that "you can be whatever you want to be." That said, all aspects of character: ambition, perseverance, self-awareness, empathy, humility, integrity, and always taking seriously the responsibility of being a leader—often while sacrificing personal welfare or gain—are required if you're to be the best you can be. You need building blocks to realize that dream. During those early years at Purdue—at least as it applied to an Army career—I lacked ambition, a good self-awareness, and perseverance. I lacked "grit."
I simply knew that I owed four years to the Army after graduation because of my scholarship, but after that, I thought I could move on to something else.
Once I finally decided to "get on board," my ambition, perseverance, and self-awareness kicked into high gear.
I then adjusted my attitude, and a 4-year commitment turned into a 30-year career.
* * *

Major General (Retired) Craig Whelden
is the author of
Leadership: The Art of Inspiring People to Be Their Best
. This is an extract from chapter one, "Character: Leadership's Building Block." Learn more about Craig, his book, and speaking opportunities at
www.craigwhelden.com
* * *


Like us on
Instagram
and
Facebook
for additional leadership and personal development ideas.
* * *


Posted by Michael McKinney at 12:01 AM
Permalink | Comments (0) | This post is about Leading Forum , Personal Development