The 9 Dimensions of Conscious Success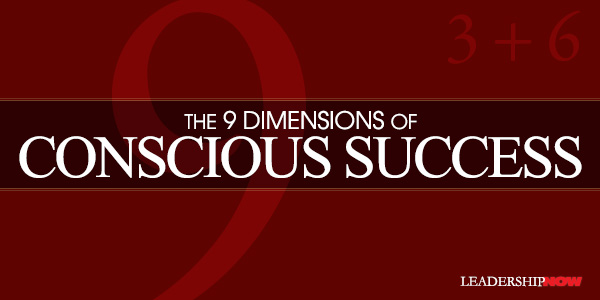 HOW DO YOU stand out in your chosen occupation to get the respect, recognition, and opportunities you want and deserve, to achieve the success you want?
Leadership and life are built on relationships. Despite any talent or education you may have, your ability to work with and influence others is what will set you apart. But that doesn't just happen. You need a plan.
The 9 Dimensions of Conscious Success: It's All About You! by David Nielson was written to give you a framework to consciously bring about your success.
The foundation of the Conscious Success Model contains three critical elements: Your Purpose, Self-Awareness, and Social Awareness.
Your Purpose
Why am I here? Your reason for being is built around "an anticipated outcome that is intended or that guides your planned actions." Having a stated purpose for your life helps to give you inner strength—an internal sense of control. You are not a victim. A specific purpose helps you also to align your actions to the purpose of others and your organization.
Self-Awareness
Self-awareness allows you to separate yourself from what's happening around you to identify your thoughts, feelings, physical state, and belief systems. "Awareness precedes meaningful choice. It is nearly impossible to make good life choices with no self-awareness." When you are aware of your inner state—where you are at—it makes it easier to act on purpose. A good place to get self-awareness is to watch the behavior of others. Often the behaviors that irritate you are mirrors of your own life.
Social-Awareness
How do you impact others? Before you interact with others, begin by asking what is the desired result based on who I am, my purpose, and who I want to be? We have an impact on everyone we meet. How do others perceive us? Is that our intent? Does it align with our purpose?
The other part of the Conscious Success Model is how we differentiate ourselves. 3 Elements + 6 Differentiators = 9 Dimensions of Success. We cannot rely "on fate to be noticed. We have to be more proactive, more deliberate and consciously aware. This is conscious success." Each of the differentiators is connected to and must be aligned with the three core elements.
As we move to the differentiators, Nielson begins by asking, "How am I really showing up? How am I presenting myself to others? Am I having the impact I really want to make?" What value do I bring? This, of course, speaks to having a healthy self-awareness.
Each of these differentiators as negative and a positive side. Either side will get you noticed. Avoid the side that will get you noticed for the wrong reasons.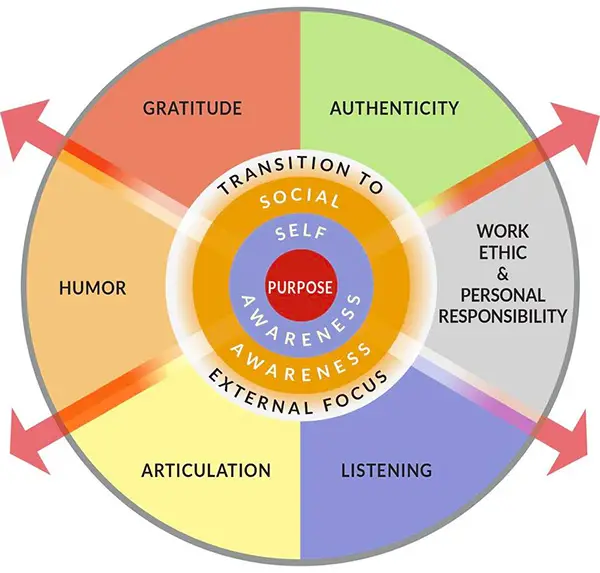 Differentiator 1: Authenticity
Authenticity is "never deceiving yourself or others in how you show up." It might go without saying but to be true to yourself you need to know who you are and what you stand for. We mostly lack authenticity because we are trying to be what people want us to be in order to be accepted or popular. We are inauthentic to cover up for our insecurities. Authenticity leads to trust. Consistency matters.
Differentiator 2: Work Ethic and Personal Responsibility
"Work with conviction to produce the results you desire and take responsibility for the results produced—even when they fail to meet the desired result." A good work ethic is based not on time put in but on results achieved. If you want to differentiate yourself, "show up early for work, do more than you're asked to do, do everything to the best of your ability, and if you finish your work, offer to help others."
Decide that you are 100 percent responsible for what happens in your life and everyone else is 0 percent responsible. It might seem unrealistic to do this but deciding to be 100 percent responsible forces you to move forward. "The reason the ratio must be 100 percent to 0 percent is that as long as the zero spot is occupied by any value, I can blame and justify the non-result. Blaming and justifying limits options and 100 percent to zero percent responsibility expands options."
Differentiator 3: Listening for Results and Connections
"Concentrate intently on the words of others in such a way you could understand and repeat accurately what is said." Listening shows respect for others and builds others trust in you. Ask questions with the intent of clarifying your understanding.
Differentiator 4: Articulate for Impact
Closely related to differentiator 3 on listening is articulation. "Provide information in a clear, concise way which produces the desired impact." To be always talking doesn't make you look smarter. Have a good vocabulary. Before you speak, consider your emotional state. Also, think about what your purpose is and what you are trying to convey.
Differentiator 5: Humor
Humor is "looking for and appreciating the humor all around us and even being able to laugh at one's self." Humor can provide perspective. Smile. "Facial expressions do not merely signal what someone feels but actually contribute to that feeling. If we smile even when we don't feel like it, our mood will elevate despite ourselves." Use humor appropriately. "Be sure the style and content of your humor is consistent with your purpose and brand. You can have a sense of humor, but it must be consistent with your image and what it is you want to accomplish."
Differentiator 6: Gratitude
"Make the choice to be thankful for what you have and consciously demonstrate gratitude when others do something for you." I believe that a lack of gratitude can undo all of the other differentiators. Gratitude is a choice we make each and every day. Having an attitude of gratitude gives you a positive outlook which makes you more attractive to others.
Conscious Success as the label implies doesn't happen by accident. It takes commitment, focus, and a force of will. The Conscious Success Model provides a useful framework for not only differentiating yourself but creating a life that matters.
The 9 Dimensions of Conscious Success is a great tool to put into the hands of anyone starting out in life.
* * *


Like us on
Instagram
and
Facebook
for additional leadership and personal development ideas.
* * *


Posted by Michael McKinney at 11:06 PM
Permalink | Comments (0) | This post is about Personal Development