Footwashing for Leaders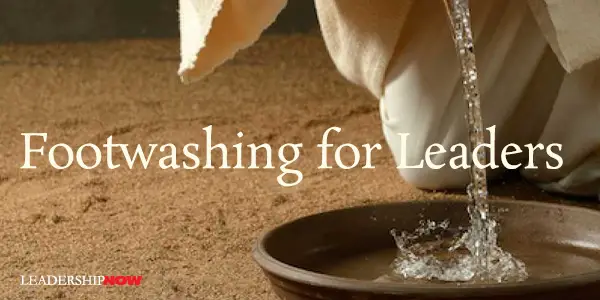 A
N EASY TRAP trap for any leader to fall into is the
"Look what I did!"
trap.
Success easily erodes humility.
Humility isn't about the lack of ambition but acknowledging the luck, the good fortune, and the contributions of others to your success. It is the humility that comes with a habit of respect for others. Stephen Hall calls it the "gift of perspective." It is indeed. Humility is all about perspective.
Fast Company
co-founder Bill Taylor argues in
Are You "Humbitious" Enough to Lead?
in the Summer 2011
Leader to Leader
journal, that "the best way to deliver on an ambitious agenda for your organization is to embrace a sense of "humbition" in your personal style and as part of your leadership repertoire."
Taylor reports that "in a manifesto of sorts that urged up-and-coming IBMers to embrace a new leadership mind-set, Jane Harper, a 30-year veteran of IBM and a group of her colleagues offered a compelling description of what it takes to succeed in a complex, fast-moving, hard-to-figure-out world. Their strongly worded advice to aspiring leaders inside IBM should be read as words of wisdom for leaders at every level of all kinds of organizations:"
"Humbition is one part humility and one part ambition. We notice that by far the lion's share of world-changing luminaries are humble people. They focus on the work, not themselves. They seek success—they are ambitious—but they are humbled when it arrives. They know that much of that success was luck, timing, and a thousand factors out of their personal control. They feel lucky, not all-powerful. Oddly, the ones operating under a delusion that they are all-powerful are the ones who have yet to reach their potential. . . . [So] be ambitious. Be a leader. But do not belittle others in your pursuit of your ambitions. Raise them up instead. The biggest leader is the one washing the feet of the others.
Success most often doesn't come from our efforts alone but in our ability to include and organize the contributions of others; to coax the fragments of a good idea from the hearts and minds of others; from a practiced watchfulness that comes from knowing that a good idea can come from anyone or anywhere. The result, when it comes together—the execution of a great idea—should be humbling to any leader.
It is humility coupled with ambition that correlates with results.
* * *


Like us on
Instagram
and
Facebook
for additional leadership and personal development ideas.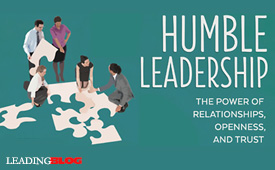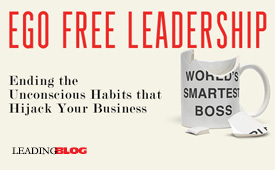 Posted by Michael McKinney at 11:04 PM
Permalink | Comments (0) | This post is about Personal Development