5 Leadership Lessons: Lessons in Leadership and Life from a Championship Season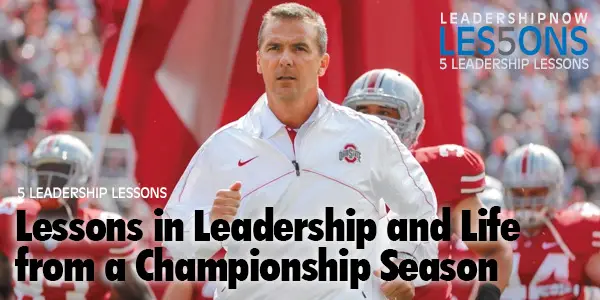 URBAN MEYER is an elite college football coach and currently the head football coach of the Ohio State Buckeyes. In Above the Line Lessons in Leadership and Life from a Championship Season he presents the lessons he has learned over his career.
Meyer says, "A leader is someone who earns trust, sets a clear standard, and then equips and inspires people to meet that standard."

  Ironically, some coaches are so preoccupied with pushing for results that they fail to build a culture that sustains the behavior that produces results. But winning behavior will not thrive in a culture that does not support it.

  If your habits don't reflect your dreams and goals, you can either change your habits or change your dreams and goals.

  Do whatever you can to reinforce someone's confidence by helping him to achieve small victories. So much of leadership comes down to knowing the people you are leading and providing them with what they need to succeed. It is also about making them confident to take risks and make changes.

  When things aren't going right, the most important thing you can do is slow down, go deep, and figure out why. It is very easy in the world we live in to get so caught up in the tyranny of the urgent that we don't make time to think. There are many distractions that pull leaders away from investing the time necessary to reflect on the issues and challenges facing their organizations.

  Leadership is more about trust you have earned than the authority you have been granted. You must earn the right for people to follow you. It is about equipping people with the tools necessary to get and stay Above the Line. It's about maximizing their talent and their lives. You are stretching people, helping then change and grow. You are taking people to places they never thought they would reach. You are helping them live better lives. Remember, you can't lead people to a place that you are not going to as well. If it isn't happening in you, it won't happen through you.
* * *


Like us on
Instagram
and
Facebook
for additional leadership and personal development ideas.
* * *


Posted by Michael McKinney at 10:37 PM
Permalink | Comments (0) | This post is about Leadership