Why You're Not Achieving Your Goals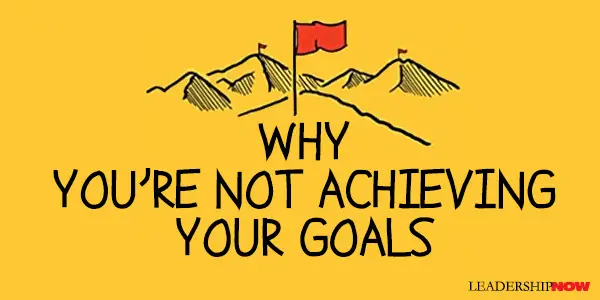 BERNARD ROTH, one of the founders of the multi-disciplinary d.school at Stanford University, has written a book titled, The Achievement Habit. However, it is much more than the title might let on.
It's about how you can achieve your goals more fully and faster by expanding your limited view of reality. It's about design thinking applied to every aspect of your life. It's about assisting us to break through the walls that are mostly of our own making.
You Give Everything Its Meaning
Roth begins by reminding us that nothing has any meaning except for the meaning that we give it. "Stop labeling things in their usual way. Make the familiar into the unfamiliar, and the result can be amazing and delightful, as opposed to dull, nonfunctional, and ordinary." Along these same lines, this applies to our need to be right. "Next time you find yourself playing right and wrong, remember: You give everything in your life its meaning, so you can choose to end the game. It does not matter how right you are or how wrong they are; you lose just by playing." You have the power to change your attitude and therefore, how you will play the game.
Reasons Are Excuses
And then there are all the reasons we have for why something is or isn't happening. They're really just excuses prettied up says Roth. He was chronically late until he decided to stop coming up with reasons and deal with the real issue. Here's the key point: We use reasons "to hide shortcomings from ourselves. When we stop using reasons to justify ourselves, we increase our chances of changing behavior, gaining a realistic self-image, and living a more satisfying and productive life." In other words, we take responsibility for our life.
We often get stuck because we are working on the wrong issue. We have some faulty assumptions. "Experience has shown me that one of the main causes of losing sleep over a problem is that we think we are dealing with a question when in fact we are dealing with an answer (a solution) that turns out not to be a good fit to our actual problem." Letting go of the problem is often the best solution. Roth shows you how to rework your question to find the actual issue.
At the d.school there is a bias toward action. Failure is part of the expected result. In reaching our goals we also need to watch our language because it influences the way we see things (and the way others see us too). The word but creates conflict. Using the word and opens up the conversation. Change "I have to" to "I want to." It clarifies the fact that we have a choice in the matter.
Don't Interrupt
Here's a ego taxing communication tip: Don't interrupt. "Many people interrupt because they have something that they are afraid they might forget or that it will not be relevant later. The best thing to do is to let it go. If it is still appropriate at the end, say it then. If it gets lost and remains unspoken—no matter how brilliant it would have been—the world will not notice."
Flat Organization
Roth describes the flat organization of the d.school over the last forty years. Why and how it works. With a common goal and purpose, I think what Roth describes is possible: "We operated by consensus and negotiation, almost never voting on anything. There was almost no acrimony, and people treated each other with respect, collegiality, and a spirit of shared purpose and commitment." "We were all in charge, and we wanted to make it work." If you can overcome your biases, "you might find a management structure that strongly supports what you want to accomplish."
Many more topics from designing workspaces to self-image are discussed. All of it valuable. Each concept is followed by a "Your Turn" section to give you tools and techniques to apply these ideas to your own situation.
When you hold yourself in high esteem and keep a positive outlook on your future, others will usually follow suit. By choosing the meaning we give to people and things in our environment, ultimately we control our own experiences, no matter what work we are doing.
| | | |
| --- | --- | --- |
| |   | The Achievement Habit is a book about life. How to design your life and leadership through design thinking. Stop wishing, start doing, and take command of your life. |
* * *


Like us on
Instagram
and
Facebook
for additional leadership and personal development ideas.
* * *

Posted by Michael McKinney at 09:44 PM
Permalink | Comments (0) | This post is about Creativity & Innovation , Personal Development