Are You Running at Full Power?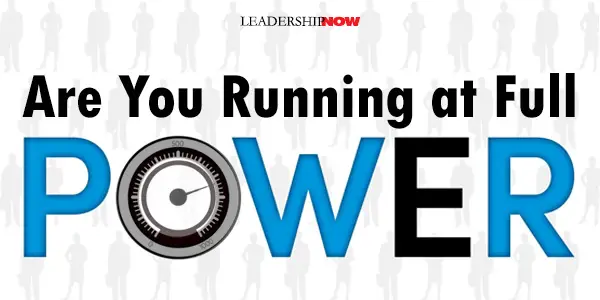 ONLY about 10% of us are running at full power!

Power Score
is designed to help you determine why you might not be performing at your best.
Your Power Score (P x W x R) is based on three questions you should be asking yourself and your team:
Do we have the right priorities?
Do we have the right who?
Do we have the right relationships?
"The key to great leadership is to have the right priorities, the right people on your team, and the right relationships that achieve results."
Interestingly, their research found that where most leaders were weakest related to the who and then priorities. The relationship factor was the strongest factor by far.
To score high on the Priorities factor, the priorities connect with the mission (the why), they are the right ones (will they get you what you want), and they are clear (focused).

To score high on the Who factor means hiring the right people onto your team and matching them to the right priorities. Have we diagnosed our team to understand its strengths and risks? (Can they accomplish the priorities?) Have we deployed the right people against the right priorities? (Remove underperformers, move people around, hire to fill out the team.) Have we developed our team? (Set people up for success.)
To score high on the Relationships factor means building relationship that function well together and achieve results. Is communication coordinated within and beyond the team? (Communicating with the right people at the right times.) Is our team committed to the mission and to one another? (Emotionally invested in their work.) Does our team feel challenged to accomplish something bigger than themselves? (Feedback and mutual accountability. A challenged team will remain a committed one.)
The book provides a questionnaire to help you and your team determine your own power score. You will also find instructions to have a follow-up power conversation. By having a power conversation with your team and rating each of these areas you can discover areas where you can improve and increase your power score.

* * *
Of Related Interest:

I Hired Your Resume. But Unfortunately What I Got Was You!
* * *


Like us on
Instagram
and
Facebook
for additional leadership and personal development ideas.
* * *

Posted by Michael McKinney at 08:49 AM
Permalink | Comments (0) | This post is about Teamwork