Leadership by Choice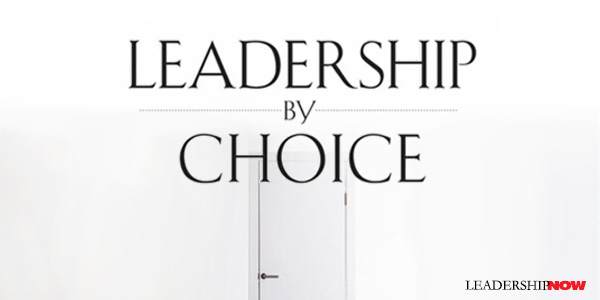 L
EADERSHIP is always a choice. In
Leadership by Choice
, author Eric Papp says it means "making a conscious choice to positively influence those around you by managing yourself and leading others in four areas: communication, leading teams, productivity, and personal development."
Communication — How well do you listen, ask questions, and speak with influence? How many of our problems are caused by a lack of listening?
We listen better to people we like, but we can learn to listen with liking to anyone. What prevents us from doing so is preconceived ideas and ideas that we have about someone. "Sometimes while listening to someone, thoughts flood your mind – "can this person do anything for me?" "I probably won't like this person," or "Who likes them anyway?" – influencing how you listen." Listen with liking.
Leading Teams – How well do you establish trust, healthy conflict, and achieve results with others?
A culture of blame teaches people that they can avert their own responsibility by blaming others. "When you breed and teach a culture of no accountability, it's very hard to reach anything above mediocrity." Without accountability you can't lead. Papp suggests five ways to hold yourself accountable: 1. Don't overextend yourself; 2. Take action before you speak. Actions speak louder than words; 3. Have an accountability partner; 4. Chart your progress. Write down daily or weekly actions that chart your continual growth; 5. Aim for consistency, not perfection.
Productivity – How well do you spend your time and how focused are you?
You are responsible for being productive. Know where your time is going, plan the day before, focus on high-payoff items, and delegate for results and not the process. (Forcing someone to do things your way is not delegating for results. It makes for a very stressful environment and is also counterproductive.)
Personal Development – What are you doing to develop yourself?
Where do leaders find their inspiration? "When we retreat to silence, we tap into the inner calm that allows us to search for answers." Lead with silence.
We must learn to deal with stress. Papp suggests that we enjoy silence, create a gratitude list, get your sleep and take naps, allow for mistakes, help someone (giving is a great stress reducer), and make a decision to enjoy life.
* * *


Like us on
Instagram
and
Facebook
for additional leadership and personal development ideas.
* * *

Posted by Michael McKinney at 08:25 AM
Permalink | Comments (0) | This post is about Communication , Personal Development , Teamwork