Leadership by Choice
: Increasing Influence and Effectiveness through Self-Management
Eric Papp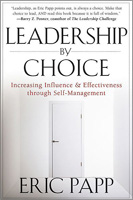 Format:
Hardcover, 192pp.
ISBN:
9781118293195
Publisher:
Wiley
Pub. Date:
June 26, 2012
Average Customer Review:

For Bulk Orders Call: 626-441-2024

Description and Reviews
From
The Publisher:
Chances are you don't have the time or energy to focus intently on each choice you make. All too often, we rush our decisions and strain our relationships by not thinking clearly or communicating properly. But the best leaders develop a system for reflecting on ideas and hold themselves accountable for every choice they make. In
Leadership by Choice
, author Eric Papp outlines the key strategies—no filler, no fluff—for leaders to excel by connecting with others and establishing strong decision-making skills.
Leadership by Choice
offers you the tools you need to make a conscious choice to positively influence those around you by managing yourself and leading others. This fast-paced, volatile business climate requires leaders who can keep cool, inspire others to adhere to high standards, produce excellent work, and continuously raise their game. This book delivers the tips you need to lead no matter your position, build high-trust teams, and even inspire accountability among the entitled members of Generation Y.
Leadership by Choice
shares proven techniques that will help you achieve results in these critical areas of development:
Communication: Listen to your clients, ask good open-ended questions, and find out how your service or product can be of value to them
Leading Teams: Establish trust and hold people accountable
Productivity: Develop a focused work approach that others admire and follow, leading to stellar results
Personal Development: Discover the key ingredient to accomplishing your goals and the importance of silence
To be a strong leader, your challenge is to find creative ways to be productive and speak with influence. Loaded with actionable strategies and compelling ideas,
Leadership by Choice
offers a new road map for becoming a leader people want to follow.

Reviews
"Leadership is not just about what you do but what you can inspire, encourage, and empower others to do. This is why I encourage you to read Eric's book. It's a road map for making the right choices to lead more powerfully and effectively!"
—Jon Gordon, bestselling author of The Energy Bus and Soup
"If your aim as a leader is to be more effective, influence and persuade others, and get better results in your position, this book will show you the way."
—Brian Tracy, author of How the Best Leaders Lead
"Leadership, as Eric Papp points out, is always a choice. And that choice begins within, getting in touch with who you are, what you care about, and what you are willing to do. Make that choice to lead, AND read this book because it is full of wisdom (which is practical advice based upon experience). No matter where you are in your leadership journey, you'll find some good ideas in this book that can make you an even better leader."
—Barry Z. Posner, PhD, Accolti Professor of Leadership, Santa Clara University; coauthor of The Leadership Challenge, Credibility, and The Truth About Leadership
"There are nuggets of fresh, practical wisdom in this book that can make you a better leader written by a guy in the trenches—a trainer who has worked with thousands of managers."
—Adrian Gostick, New York Times bestselling author of All In: How the Best Managers Create a Culture of Belief and Drive Big Results

About the Author
Eric Papp
is the founder and CEO of Results-Based Seminars, LLC, and a professional leadership trainer and consultant. He has delivered more than 350 professional training programs to corporate and private clients. His client list includes Nationwide Insurance, Lockheed Martin, Huntsman Corporation, and many more. He has been quoted in the New York Times, USA Today, the Dallas Morning News, and many other publications.