Leadership as Provocative Competence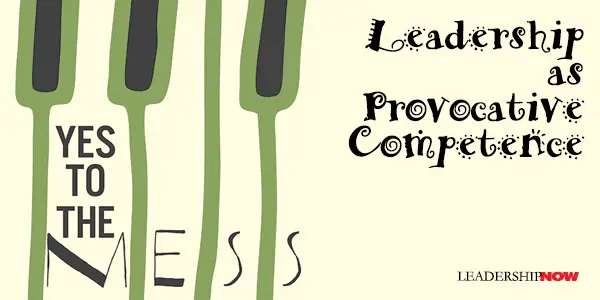 J
AZZ HAS ALWAYS been a good metaphor for the art of leadership. In
Yes to the Mess
, Frank Barrett knocks it out of the park. How do we create a culture where people can innovate? Barrett wants us to look at leadership differently and increase our leadership repertoire beyond hierarchical models, "so that we more fully appreciate the power of relationships." And in that he succeeds.
Barrett introduces us to what he calls Provocative Competence. It is the capacity "to create the discrepancy and dissonance that trigger people to move away from habitual positions and repetitive patterns." Barrett says "Leadership as a design activity means creating space so that people will be tempted to grow on their own."
Herbert Simon, who won the Nobel Prize in Economics in 1978 for his research on decision making in organizations, believed that we should not think of leaders as making decisions on past data, "but as creating forms so that people can flourish in the future," or as Barrett expresses more clearly, as shaping "worlds of interpretation in which others can make meaningful contributions."

The outcome then, is to enliven activity and rouse the mind to life. It isn't about authority but is "relational moves within an unfolding context" and are judged by "how well they work with the resources at their disposal … and how effectively they help free their own potential and that of others."
Barrett breaks provocative competence down into five component parts:
First, it is an affirmative move. "What makes these interventions powerful is that the leader holds a positive image of what others are capable of. This often means seeing other people's strengths better than they see their own strengths."
Second, provocative competence involves introducing a small disruption to routine. "What makes provocative competence an 'art' is the introduction of just enough unusual material that it engages people to be mindful—to pay attention in new ways." Timing and pacing is important he cautions. "Leaders who disrupt on a regular basis or try to be provocative all the time are obnoxious, and are eventually ignored and probably mimicked."
Third, it is important to create situations that demand activity. People are expected to jump in and work it out and discover as they go.
Fourth, provocative competence means facilitating incremental reorientation by encouraging repetition. There is a balance here. "Not all repetition is the same. Sometimes you need to repeat a gesture and then start to notice it from a slightly different angle…. Even while people are learning on old habits, they have to attend to new cues and new options, and start to manage and process information within a new, broader context."
Fifth, provocative competence involves analogic sharpening of perspectives and thought processes. "This is the point at which people look back at what is emerging and jump into the morass as they make comparisons, links, and connections to a larger, emerging whole." This is the thrust of innovation. Net effect: "People start to notice affinity between pieces that previously seemed disconnected; resemblances that no one noticed before start to emerge."
Of course, notes Barrett, "different groups have different levels of performance, and leaders certainly have to deal with imperfect talent, but saying yes to the mess means finding affirmation in the best of what already exists." That's the job of a great leader. It's what separates leaders from bosses. "That's a true gift: to be able to see people at their very best when their current behavior is far less than that."
Of Related Interest:


Making Your Team Swing


Leadership: Artistry Unleashed


Does Your Leadership Have "White Space?"
* * *


Like us on
Instagram
and
Facebook
for additional leadership and personal development ideas.
* * *

Posted by Michael McKinney at 05:59 PM
Permalink | Comments (0) | This post is about Creativity & Innovation , Leadership , Management