Making Your Team Swing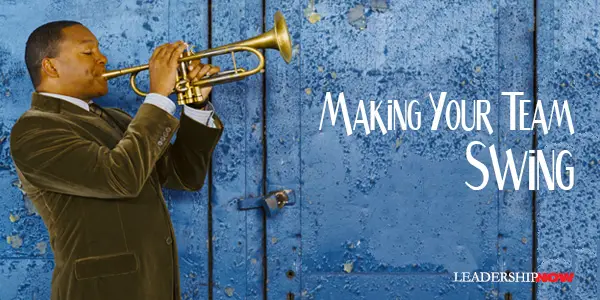 WORLD RENOWN Jazz artist, Wynton Marsalis, has some profound things to say about business and relationships that are worth reviewing. Earlier this year, USA Today's Del Jones interviewed Wynton Marsalis about principles found in both jazz and business.
Marsalis told USA Today, "When you listen to great jazz musicians, you hear the respect they have for each other's abilities. During a performance, most of the musicians' time is spent listening to others. You see the trust they have for each other because they are always making adjustments and improvising based on what someone else does."
Marsalis acknowledges that trust and listening to others goes hand-in-hand, but he brought up another important point that I think applies to any functioning organization or relationship. He points to the mindset of being aware of what others are doing and making adjustments for them in what you are doing, for the sake of the whole group. It's not pointing fingers and affixing blame. It's being so tuned-in to others that you can absorb their mistakes and they can absorb yours without missing a beat. He calls it "swing." Here is more on that concept:
Swing is a rhythm, an era in American history, and it is a world view. In this world view, there is a belief in the power of a collective ability to absorb mediocre and poor decisions. When a group of people working together trust that all are concerned for the common good, then they continue to be in sync no matter what happens. That is swing. It's the feeling that our way is more important than my way. This philosophy extends to how to treat audiences, consumers, staff or dysfunctional families. This may seem idealistic, but think about how church congregations recite, nearly together and completely unrehearsed. They proceed by feel. Swing is the single objective. It is the core that makes us all want to work together.
* * *


Like us on
Instagram
and
Facebook
for additional leadership and personal development ideas.
Posted by Michael McKinney at 07:05 AM
Permalink | Comments (0) | TrackBacks (1) | This post is about General Business , Teamwork