Leading Views: The Haircut Problem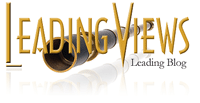 In
Rippling
, by Beverly Schwartz explores five strategic ways that social entrepreneurs change social systems. Esther Dyson reflects on one of those ways: restructuring institutional norms. When trying to introduce a new way of thinking, explains Dyson, you have to deal with the
haircut problem—thinking that the current way is the right way
.
We need to change how people think: not just what they notice, which is hard enough, but also their perceptions of justice and propriety. In many cases, such as ineffective education,
few people benefit from the current situation, but they just can't imagine things any other way
. They think that the current order of things is the right order of things. I call that the
haircut problem
—a well-known phenomenon in certain segments of certain societies. Tell someone that you like their new haircut, and they immediately think: "I must have looked horrible before or they wouldn't have said anything."
Anytime you prefer a new haircut to the old one or anytime you ask a society to change, you are implicitly criticizing the way things used to be. People don't like being told they are not perfect—especially by outsiders. If you call their basic assumptions into question, you are telling them that they have been wrong or unjust, prejudiced or ignorant.
The trick is to honor the past (or the present) while talking about the benefits of the new management.
This can be hard to do. It takes not just cleverness but also courage—even as you lead.
* * *

Like us on
Facebook
for additional leadership and personal development ideas.
* * *

Posted by Michael McKinney at 01:06 AM
Permalink | Comments (0) | This post is about Leading Views