The Inner World of the Leader: On the Couch with Manfred Kets de Vries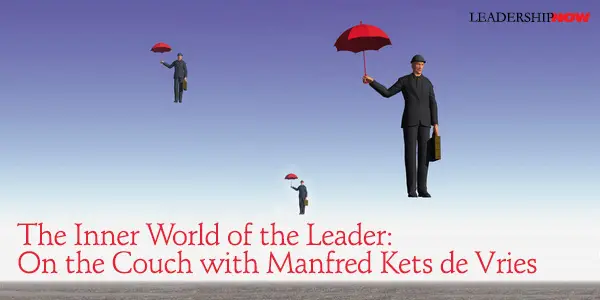 WHY do organizations attempt to function on the basis that executives are logical, rational, dependable human beings?

And why does the belief persist that management is a rational task performed by rational people according to rational organizational objectives?

These are just a couple of the questions and myths that Manfred Kets de Vries grapples with in his series, On the Couch with Manfred Kets de Vries.
Kets de Vries is a clinical professor of leadership development at INSEAD. His background in economics, management, and psychoanalysis, adds a great deal of richness and context to the study of leadership. Over the last three years Jossey-Bass has published a mostly revised and updated collection of his rather large body of thoughtful-provoking writing in this series of three books.
The opinion of one of the power holders in the [Harvard Business School] Organizational Behavior department was that I would never write anything. That particular person must have had a very good understanding of human behavior. One of the small pleasures of life is doing something people say you will never do. I believe that [Reflections on Character and Leadership] is my twenty-ninth book. I have always thought that academics are masters in character assassination.

Kets de Vries begins the series with
Reflections on Character and Leadership
. In it he examines some of the major issues about leadership. What makes a leader? What is good leadership? And what is bad? What happens to organizations if a leader derails? What are the impacts of successful and failed leadership on followers and organizations?
Every leader needs someone who is willing to speak out and tell the leader how it is in order to create checks and balances—the counterweight of the person in power. Without such people leaders easily derail and organizations can become paralyzed by fear, mistrust and insecurity. He explains how leaders construct organizations that are great places to work.
The era of the highly structured organization is past….Clearly, some executives may not be able to deal with the ambiguities that this new kind of networking, boundary-less organization entails—the external boundaries in an organization can be removed fairly easily, but the boundaries inside people's heads are more difficult to dissolve. Weaning some leaders away from their need for authority, structures, and controls may take considerable time and effort. In the long run, however, it will be well worth it. Eventually, they will enjoy their work more, and be more effective.

Kets de Vries says that
narcissism is an inescapable aspect of human nature
—and leadership. It has had a generally bad press. "There is such a thing as a healthy dose and it lies somewhere on a wide spectrum that ranges from grandiosity and showmanship to denigration and coldness." He begins
Reflections on Leadership and Career Development
by discussing narcissism and leadership.
Leadership can be pathologically destructive or intensely inspirational. But what is it about the leaders themselves that causes them to be one or the other? I believe the answer lies in the degree of narcissism in the personality of the leader in question.
He discusses the qualities characterize great leaders and the interactions, both positive and dysfunctional, between leaders and followers. "The truly effective leader "is the one who knows how to balance reflection and action by using self-insight as a restraining force when the sirens of power start singing." He takes a look at leadership archetypes and how they operate within organizations—and how to deal with them. He concludes with an examination of the issues, anxieties, and opportunities that we face at midlife and beyond. How can we alter our perspective on life to become "twice-born"?

Finally in
Reflections on Groups and Organizations
, Kets de Vries looks at leadership issues in the context of groups and organizations. He examines various ways in which neurotic individuals create neurotic organizations. He describes how
folie à duex
—literally "
madness shared by two
"—works in an organizational setting; how individuals' activity or passivity and tendency toward conformism can contribute to the process and what checks and balances could be used to forestall and manage dysfunctional leader-follower relationships.
Kets de Vries doesn't believe leaders are born. While some seem to have a head start, leadership potential can be developed. "Leadership potential is a delicate interplay between nature and nurture."
An effective leader is someone, says Kets de Vries, "who is a little like a Zen riddle, or kōan—a paradox who is comfortable dealing with paradoxes. Because a leader has to be active and reflective, an introvert and an extrovert, engaged in both divergent and convergent thinking. A leader needs IQ, but also EQ. A leader has to think atomistically, but also holistically, for the short term and the long term. Anyone who can balance these contradictions effectively will do well."
He advocates the building of an organization wide coaching culture ad discuss how it can be implemented.
There are several basic things that any leader has to do: provide focus, understand what makes their people tick, set an example, and make things happen. However, the distinguishing factor between mediocre and great leadership is always the same: the creation of meaning….When it comes down to it, people are searching for meaning.
This series of books cannot be read quickly. Each book in the series seeks to understand leaders, human nature and its vicissitudes. They need to be reflected on. They will challenge your thinking, widen your perspective and inspire you to do better.
* * *


Like us on
Instagram
and
Facebook
for additional leadership and personal development ideas.

Posted by Michael McKinney at 04:08 PM
Permalink | Comments (0) | This post is about Leaders , Leadership , Leadership Development , Management