Reflections on Groups and Organizations
: On the Couch With Manfred Kets de Vries
Manfred Kets de Vries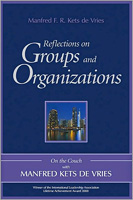 Format:
Hardcover, 360pp.
ISBN:
9780470742471
Publisher:
Jossey-Bass
Pub. Date:
March 8, 2011
Average Customer Review:

For Bulk Orders Call: 626-441-2024

Description and Reviews
From
The Publisher:
Reflections on Organizations is the third and final book in the On the Couch with Manfred Kets de Vries series.
Broadening the canvas, this book examines concepts of organizational health, performance, and change. Material ranges from studies of high performance teams – based on time the author spent with the pygmies of central Africa – to the use of coaching techniques to improve personal and organizational functioning.
Kets de Vries looks at the interpersonal and group processes that determine how organizations work within specific contexts, including family firms. He studies dysfunctional leader-follower relationships, downsizing, and organizational transformation. Kets de Vries also introduces his concept of the "authentizotic" organization – a pleasant, healthy, well-functioning workplace.

About the Author
Manfred
was honoured in November 2009 in Los Angeles at the International Leadership Association's 10th conference when he and six others were inducted into the Leadership Legacy Project of the ILA and given Lifetime Achievement Awards. (Manfred was also the first non-American recipient of the International Leadership Award for "his contributions to the classroom and the board room" by the ILA back in November 2005). This is the first time that this very prestigious organization has honoured "founding professionals in the development of leadership as a field and as a discipline."
This was a huge honour for Manfred, Bernard Bass & Joseph Rost (posthumously), Warren Bennis, James MacGregor Burns, and Frances Hesselbein --a truly stellar group of leadership pioneers. The presentation ceremony of the International Leadership Association Lifetime Achievement Award on Thursday 13th November was before a packed amphi. Laurent Lapierre, his old student and Professor of Leadership at HEC, Montreal, gave a very fitting and unusual introduction and personal tribute to Manfred's lifework, touching on his many accomplishments in the field of leadership. During the conference and various gala dinners Manfred sat beside Frances Hesselbein and met Warren Bennis.

Table of Contents
| | | |
| --- | --- | --- |
| | | |
| | Introduction | ix |
| | About This Book | xix |
| | Acknowledgements | xxi |
| | | |
| | PART 1 INTERPERSONAL AND GROUP PROCESSES | 1 |
| | Introduction | 2 |
| 1 | Folie ŕ Deux: Acting Out Your Superior's Fantasies | 5 |
| 2 | Group Dynamics | 27 |
| 3 | High Performance Teams: Lessons From the Pygmies | 43 |
| | | |
| | PART 2 THE PEOPLE DIMENSION IN ORGANIZATIONS | 65 |
| | Introduction | 66 |
| 4 | The Question of Organizational Culture | 71 |
| 5 | Personality, Culture and Organizations | 91 |
| 6 | The Downside of Downsizing | 121 |
| 7 | Beyond the Quick Fix: The Psychodynamics of Organizational Transformation and Change | 151 |
| 8 | The Dynamics of Family Controlled Firms | 173 |
| | | |
| | PART 3 CHANGING PEOPLE AND ORGANIZATIONS | 191 |
| | Introduction | 192 |
| 9 | Leadership Coaching for Organizational Transformation | 197 |
| 10 | Can Leaders Change? Yes, but Only if They Want To | 225 |
| 11 | The Many Colors of Success: What Do Executives Want Out of Life? | 259 |
| 12 | Coaching to Stardom: How to Identify and Develop Top Performers | 281 |
| | Conclusion: Creating Authentizotic Organizations | 301 |
| | | |
| | References | 313 |
| | Index | 327 |

Find Items On Similar Subjects

Reflections on Character and Leadership
: On the Couch with Manfred Kets de Vries

Reflections on Leadership and Career Development
: On the Couch with Manfred Kets de Vries

The Leader on the Couch
: A Clinical Approach to Changing People & Organisations