Reflections on Leadership and Career Development
: On the Couch with Manfred Kets de Vries
Manfred Kets de Vries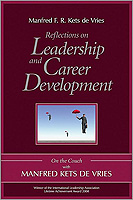 Format:
Hardcover, 280pp.
ISBN:
9780470742464
Publisher:
Wiley
Pub. Date:
February 2, 2010
Average Customer Review:

For Bulk Orders Call: 626-441-2024

Description and Reviews
From
The Publisher:
Reflections on Leadership and Career Development
is the second of the three books in the Manfred kets de Vries on the Couch series.
Here, kets de Vries takes an in-depth look at the way basic psychological processes operate on individual and corporate performance and analyses these in the context of case studies of leaders and organizations, including a lengthy study of Vladimir Putin, as "CEO of Russia, Inc.". The third part of the book examines the career life cycle and how executives cope (or fail to cope) with rites de passage like succession and retirement.
The chapters in this book take different perspectives on the intimate connection between individuals' personality or "inner theatre" and the organizational context in which they work, – how different personality types, in positions of leadership or as members of management teams, affect the functioning and success of organizations.

About the Author
Manfred
was honoured in November 2009 in Los Angeles at the International Leadership Association's 10th conference when he and six others were inducted into the Leadership Legacy Project of the ILA and given Lifetime Achievement Awards. (Manfred was also the first non-American recipient of the International Leadership Award for "his contributions to the classroom and the board room" by the ILA back in November 2005). This is the first time that this very prestigious organization has honoured "founding professionals in the development of leadership as a field and as a discipline."
This was a huge honour for Manfred, Bernard Bass & Joseph Rost (posthumously), Warren Bennis, James MacGregor Burns, and Frances Hesselbein --a truly stellar group of leadership pioneers. The presentation ceremony of the International Leadership Association Lifetime Achievement Award on Thursday 13th November was before a packed amphi. Laurent Lapierre, his old student and Professor of Leadership at HEC, Montreal, gave a very fitting and unusual introduction and personal tribute to Manfred's lifework, touching on his many accomplishments in the field of leadership. During the conference and various gala dinners Manfred sat beside Frances Hesselbein and met Warren Bennis.

Table of Contents
| | | |
| --- | --- | --- |
| | | |
| | Introduction | |
| | About this book | |
| | Acknowledgements | |
| | | |
| | Part 1: The Origins of Leadership | |
| | Introduction | |
| 1 | Narcissism and Leadership | |
| 2 | Why Follow the Leader? | |
| 3 | The Dance of Leaders and Followers | |
| 4 | Listening with the Third Ear | |
| | | |
| | Part 2: Leadership and Personality | |
| | Introduction | |
| 5 | Vladimir Putin, CEO of Russia, Inc.: The Legacy and the Future | |
| 6 | 'Complex' Executives I have 'Met' in Coaching and Consulting | |
| 7 | Leadership Archetypes: A New Organizational Constellation | |
| | | |
| | Part 3: Leadership and Career Development | |
| | Introduction | |
| 8 | Midlife-Stop the World, I Want to Get Off | |
| 9 | The CEO Life Cycle | |
| 10 | The retirement Syndrome-The Psychology of Letting Go | |
| | Conclusion: the Twice-Born Experience | |
| | | |
| | References | |
| | Index | |

Find Items On Similar Subjects

Reflections on Groups and Organizations
: On the Couch With Manfred Kets de Vries

Reflections on Character and Leadership
: On the Couch with Manfred Kets de Vries

The Leader on the Couch
: A Clinical Approach to Changing People & Organisations