Avoid Trivia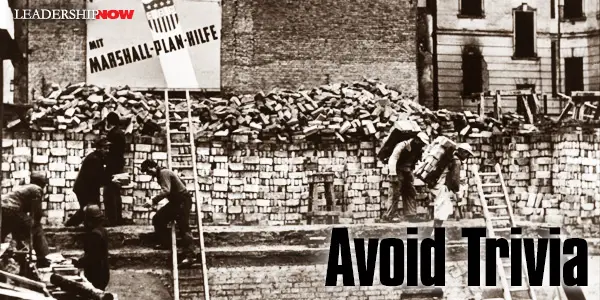 CAUGHT UP IN our day-to-day struggles, keeping our eye on the big picture is difficult. We can become distracted by the relatively trivial matters to our larger purpose. To be sure, the daily minutia needs to be dealt with, but the trivia will always be there to deal with, to distract us, to take us off-course, to cause us to doubt and give up.
What is important is what you pay attention to. Where you place your attention will determine the course of your life.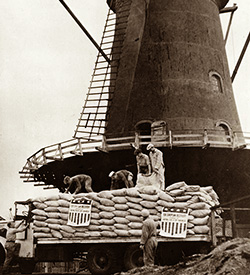 After World War II, Europe tried to rebuild. But it became clear that it could not do it alone. For Secretary of State George Marshall, moving quickly on a plan to aid Europe while keeping it out of the clutches of the Soviet Union was of paramount importance. In Marshall's words, "The patient was sinking while the doctors deliberate." On April 29, 1947, Marshall instructed the State Department's first director of policy planning, George Kennan and his team to come up with an economic relief plan. He gave him two weeks to come up with what would later be called the
Marshall Plan
.
Kennan recalls that he offered no observations or suggestion of his own. When he asked for advice, Kennan writes, "The only advice he had to give me was expressed in two deeply serious and unforgettable words: avoid trivia."
Kennan says when they began they encountered a great deal of skepticism and pessimism. "To every idea we put forward, weighty and often plausible objections were raised. The problem we were told was too great: the resources were not there; the Europeans would never consent to take the initiative; whatever help we might be able to offer would merely sink into the sands." But their instructions from Marshall were to not listen to those voices—avoid trivia.
Those voices are always there in any worthwhile effort we make. The tension between the trivial and the weighty matters is a part of life. Avoid trivia. Stay focused on the weighty matters. Choose the things that capture your attention—be intentional. Avoid the worthless things.
* * *


Like us on
Instagram
and
Facebook
for additional leadership and personal development ideas.

Posted by Michael McKinney at 08:31 PM
Permalink | Comments (0) | This post is about Vision