quickpoint: Napoleon on Self-Control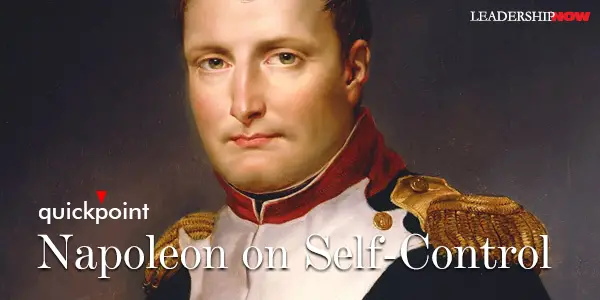 IN Andrews Roberts' one-volume biography of Napoleon he builds a picture of self-made man who largely succumbed to his own strengths. Roberts shares an interesting note from Napoleon to Louis-Mathieu Molé on self-control. This excerpt provides some insight into Napoleon's character:
In my own case it's taken me years to cultivate self-control to prevent my emotions from betraying themselves. Only a short time ago I was the conqueror of the world, commanding the largest and finest army of modern times. That's all gone now! To think I kept all my composure, I might even say preserved my unvarying high spirits … You don't think that my heart is less sensitive than those of other men. I'm a very kind man but since my earliest youth I have devoted myself to silencing that chord within me that never yields a sound now. If anyone told me when I was about to begin a battle that my mistress whom I loved to distraction was breathing her last, it would leave me cold. Yet my grief would be just as great as if I had the time. Without this self-control, do you think I could have done all I've done?
Roberts concludes: "So rigid a control on one's emotions might seem distasteful to the modern temperament, but at the time it was considered a classical virtue. It undoubtedly helped Napoleon deal with his extraordinary reversals of fortune."
* * *


Like us on
Instagram
and
Facebook
for additional leadership and personal development ideas.
* * *

Posted by Michael McKinney at 12:30 AM
Permalink | Comments (0) | This post is about Leaders , quickpoint