How Character Erodes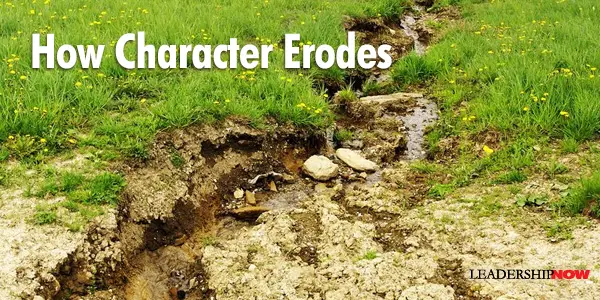 CHARACTER is built choice by choice, decision by decision. And it is eroded the same way. We often don't stop to think about how each choice builds on the last until it's too late. It is a worthwhile practice to think about your choices and where they are leading you on a daily basis. Ralph Waldo Emerson put it well: "The force of character is cumulative."
In a October 2002 Fast Company article—The Secret Life of the CEO: Is the Economy Just Built to Flip?—Jim Collins, explains how character erodes:
These were the people who, in the presence of an opportunity to behave differently, got drawn into it, one step after another. If you told them 10 years ahead of time, "Hey, let's cook the books and all get rich," they would never go along with it. But that's rarely how most people get drawn into activities that they later regret. When you are at step A, it feels inconceivable to jump all the way to step Z, if step Z involves something that is a total breach of your values. But if you go from step A to step B, then step B to step C, then step C to step D ... then someday, you wake up and discover that you are at step Y, and the move to step Z comes about that much easier."
* * *


Like us on
Instagram
and
Facebook
for additional leadership and personal development ideas.

Posted by Michael McKinney at 10:14 PM
Permalink | Comments (0) | This post is about Personal Development