4 Reasons We Struggle with Ethics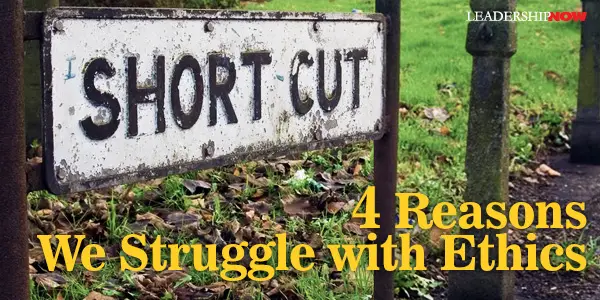 ETHICS IS ABOUT who we are. Ethics is not so much about what is happening around us, it's much more about what is going on inside of us. Understanding the difference is critical to being a person with good ethics. Ethics are not concerned about what we can do, but what we should do. Ethics align us to our purpose and our values no matter what is happening around us.
Ethics are about how we will measure our life. Our choices are taking us somewhere. The question is, "Where do we want to end up and what kind of person do we want to be when we get there?"
Our ethics can be compromised for the following reasons:
We want to win. The pressure to deliver results now causes us to make decisions to get us what we want now but ones that will eventually take us to the wrong place. Compromises are everywhere. We are one decision away from compromise. Ethics come in to play when the right decision for the long term doesn't make sense for the short-term. Actions based on long-term values may not give us the same sense of achievement as short-term based actions, but they take us to two different places. If the right decision means losing in the short-term, the question then becomes, "How important is winning?"
We think our situation is different. We're the exception. But if what is right is dependent on our situation, then nothing is right. To be right, right must be applicable to all people across all situations. Sometimes we think we can avoid the consequences if our intentions are good. But the reality is we can't avoid the consequences. Every choice has a consequence.
We look for shortcuts. Shortcuts are duplicitous. They involve compromise and they cost us far more than they save us. Shortcuts are often doing the right thing at the wrong time. It's the easy route. A shortcut is simply finding the path of least resistance. Shortcuts are simply a way to avoid the price of admission. Good things take time. We just get tired of waiting. When we look back on the decisions we have made in our life where in an effort to hurry things along, we can see where we compromised our character—our ethics. Looking back we can see that we paid a higher price than if we had stayed the course. If getting there quicker—the what—is more important than how we get there, then we will compromise our ethics.
We think ethics is about rules. Laws can be demanded of people but ethics can't. Rules are reactive. Ethics is proactive. Rules are about maintaining. Ethics is about leadership. Rules can only go so far. You can't lead on rules alone. Rules can only regulate certain behaviors, but to grow you need to lead with ethics. Leading with ethics means to lead within a framework defined by how not what.
Ethics provide a framework in which to make right choices—a framework in which to lead. They provide the how for our what.
* * *
Of Related Interest:

Ethics: Reinforcing Fixed Points
* * *


Like us on
Instagram
and
Facebook
for additional leadership and personal development ideas.
Posted by Michael McKinney at 11:06 PM
Permalink | Comments (0) | This post is about Ethics