What Makes Business Rock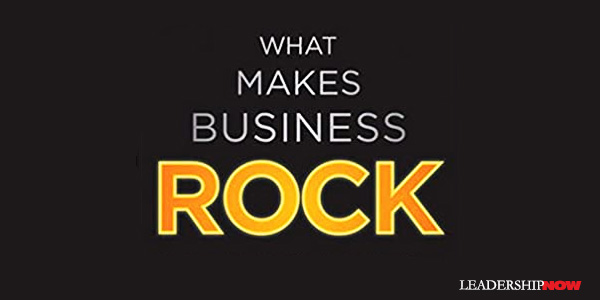 AFTER reading What Makes Business Rock by Bill Roedy, I have developed an appreciation for what it took to build MTV Networks International into what it is today. Former Chairman and CEO, Bill Roedy, has had a remarkable career.
Due to financial constraints, he followed his Dad into West Point. Not his first choice. He became a member of the "Century Club" collecting more than a hundred hours of punishment duty. But he did learn the "difference between fighting the system and finessing it." He also learned many of the skills that would enable him to succeed in business, including "discipline, time management, the value of teamwork, and the importance of physical endurance."
He learned how to prioritize. Survival depended on it. "Too often," writes Roedy, "I have seen people focusing on the wrong things—things that are not going to directly or immediately affect their business….Leaders need to learn to cut through the chaff to determine priorities and to identify the real target."
After West Point he served in Vietnam in various command positions. "I learned the importance of making quick and firm decisions, communicating those decisions clearly to my troops, and then doing anything and everything necessary to implement them. I learned the importance of building morale, camaraderie, and a team spirit. I learned how to deal with the chain of command and how to get around it when necessary."
From Vietnam he went to Northern Italy where he spent four years in command of three NATO nuclear missile bases. A good place to learn how to deal with pressure and stress. "There are few situations more stressful than commanding a nuclear missile site and trying to determine in 30 seconds whether the aircraft approaching the base was a friend or foe. There was no margin for error. We had to be perfect every day."
Wanting to go into business, he resigned the military after 11 years and went to Harvard to get an MBA. As a child, Bill was so enthralled by the power of television that he would memorize the TV Guide and recite the schedule back to his mother. He knew he wanted to work in television so instead of the typical corporate route followed by his classmates, he took a job at a small start-up cable network called HBO.
Roedy's background doesn't make him the likely candidate to build MTV International, but it certainly prepared him for it. More on that tomorrow.
* * *


Follow us on
Instagram
and
Twitter
for additional leadership and personal development ideas.
* * *

Posted by Michael McKinney at 11:46 PM
Permalink | Comments (0) | TrackBacks (1) | This post is about General Business , Leaders , Management , Marketing , Teamwork