What Makes Business Rock
: Building the Worlds Largest Global Networks
Bill Roedy with David Fisher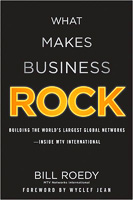 Format:
Hardcover, 289pp.
ISBN:
9781118004760
Publisher:
Wiley
Pub. Date:
May 3, 2011
Average Customer Review:

For Bulk Orders Call: 626-441-2024

Description and Reviews
From
The Publisher:
Global business lessons from Bill Roedy, the man who built the world's largest entertainment network
What Makes Business Rock
is the compelling story of how Bill Roedy, the Chairman and CEO of MTV International, built the largest international entertainment network in existence, much of the time having to make up answers for questions which had never before been asked.
It's a free-wheeling, rock and rolling tale filled with a fascinating cast of characters including British entrepreneur Robert Maxwell, Rupert Murdoch and Sumner Redstone, Bono, the Pope, and a range of legendary politicians such as Nelson Mandela, Vladimir Putin, and Fidel Castro.
An important primer on how to build and manage a business in an environment of continually evolving and developing communications platforms
Deals with the cultural demands of countries as diverse as China, Zambia, and Ireland
A business book masquerading as the memoir of one of the most important people in the music industry
Entertaining and engaging, What Makes Business Rock offers an up close look at Bill Roedy the person and professional, and uncovers the innovative strategies he used to help make MTV the most successful, and best known, media brand in the world.
As Chairman and Chief Executive of MTV Networks (MTVNI), Bill Roedy built the largest and arguably most culturally influential television network in the world. Beginning with a single channel in 1989, under his direction, MTVNI developed and launched more channels and networks than any other entertainment company. Roedy and his team built a global operation that includes 175 locally programmed channels and 400 digital media properties that stretch across 165 countries and reaches a potential audience of more than 2 billion people speaking thirty-three languages.
In
What Makes Business Rock
, Roedy tells the inside story of how he built the world's largest entertainment network by employing unique strategies that enabled MTV to thrive internationally in an extraordinarily diverse range of cultures.
What Makes Business Rock is the valuable business memoir of the man who Bill Clinton has described as "the best businessman in the world." In an environment increasingly dependent on global trade, it serves as a primer on how to build and manage a business when the partners on whom you rely don't speak your language and operate under different—and often challenging—conditions. But what makes this book truly unique is how MTVNI succeeded by following a strategy very different than other multinational corporations. It worked because Bill Roedy learned that building the world's largest entertainment network—while dealing with the cultural demands of countries as diverse as Australia and Zambia, Pakistan and Brazil, China and Germany—required adhering strictly to one inviolate rule: break all the rules!
In a three-decade trip through the media industry, Roedy takes you on an incredible journey as he builds a network while dealing with almost daily crises around the world, from meeting with China's President Jiang Zemin in the Forbidden City to watching as the Berlin Wall comes down, from wrestling with the Vice-Mayor of Leningrad on the floor of the Winter Palace to dealing with the legendary and infamous Robert Maxwell.
Roedy also was honored as the U.N. Correspondents' 2009 Global Citizen of the Year for uniting MTV with public service initiatives that saved lives while building tremendous brand recognition and loyalty throughout the world. In
What Makes Business Rock
, he shares the lessons he learned, along with great stories about working with heads of state, Nobel Prize winners, creative leaders, renowned media executives, and the most talented musical artists in the world.

Reviews
"Bill's global mission required an innate respect for diverse traditions, and a creative sensibility that speaks every language and builds bridges around the world. That mission also required Bill–on occasion–to brandish the steel will he honed as a combat-decorated officer in Vietnam and go toe-to-toe with repressive government officials or entrenched competitors who were challenged by the revolutionary impact of our programming. Bill is an advocate for human rights and an open-minded student of unfamiliar cultures—a man trained in warfare who spent decades deploying entertainment, children's programming, and health education all over the world."
— Philippe Dauman, President and Chief Executive Officer, Viacom
"Bill Roedy and I grew up together in the media world and I am proud to call him my friend. Bill is one of the few people who have played a role in all of the extraordinary changes we've seen since the earliest days of cable television. He has been a true pioneer, finding unique ways to extend the reach of MTV throughout the world. The lessons he learned about establishing a brand internationally are invaluable to anyone who intends to prosper in the global business world."
—Jeff Bewkes, Chairman and Chief Executive Officer, Time Warner

About the Author
Bill Roedy
was chairman and chief executive of MTV Networks International. In this role, he ran all of MTV Networks' global multimedia operations for the brands MTV: including Music Television, Nickelodeon, VH-1, VIVA, TMF: The Music Factory, Game One, Comedy Central, and Paramount Comedy. He also has received numerous honors for his corporate and personal contributions to a range of humanitarian causes.
David Fisher
has worked on seventeen New York Times bestsellers, including his most recent book, No One Would Listen with whistleblower Harry Markopolos.

Table of Contents
| | | |
| --- | --- | --- |
| | | |
| | Foreword | xi |
| | Introduction | xv |
| | | |
| 1 | Born in the U.S.A. | 1 |
| 2 | Survivor | 37 |
| 3 | Money for Nothing | 67 |
| 4 | Mo' Money Mo' Problems | 97 |
| 5 | Get the Party Started | 129 |
| 6 | We Will Rock You/We Are the Champions | 163 |
| 7 | How to Save a Life | 203 |
| 8 | Where Do We Go from Here? | 233 |
| 9 | The Beginning Is the End Is the Beginning | 257 |
| | | |
| | Acknowledgments | 265 |
| | Index | 271 |