Leading Views: Being an Insider and an Outsider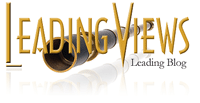 "The power of being simultaneously an insider and an outsider." ~Dov Frohman
Think about it.
Flexibility. Freedom. Insight.
Dove Frohman wrote in
Leadership the Hard Way
:
"Unless you are prepared to see things differently and go against the current, you are unlikely to accomplish anything truly important. And to go against the current, you have to be something of an outsider, living on the edge, a member of a small but vibrant counterculture." He adds, "You must free yourself from habitual ways of looking at things, cultivate an independent and questioning perspective, and be ready to embrace alternative and counterintuitive points of view."
What is your standard deviation?
Related Interest:

Learning Leadership the Hard Way
Posted by Michael McKinney at 12:40 AM
Permalink | Comments (0) | This post is about Leading Views