John Wooden: It Takes a lot of Strength on the Inside to be Gentle on the Outside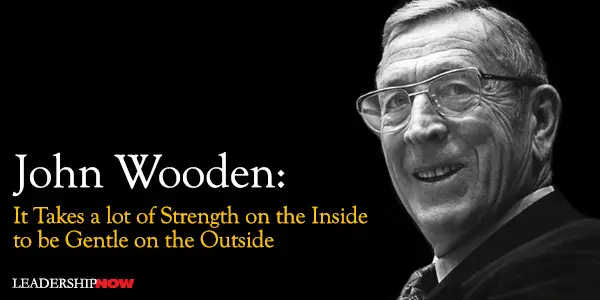 I FIRST MET John Wooden (October 14, 1910 – June 4, 2010) in the early eighties when working on a presentation product for his pyramid of success. He truly was a legendary teacher who based his life on sound principles. As with nearly everyone he came into contact with, he had a positive influence. Not surprisingly, his Dad, Joshua Wooden, took the time to lay a firm foundation for him. Upon his graduation from Centerton Grade School, his Dad gave him a card with seven suggestions to follow:
Be true to yourself.
Help others.
Make each day your masterpiece
Drink deeply from good books, especially the Good Book.
Make friendship a fine art.
Build a shelter for a rainy day.
Pray for guidance and count and give thanks for your blessings each day.
In his book, The Essential Wooden, John Wooden tells a story of his Dad's leadership to illustrate the point that it takes a lot of strength on the inside to be gentle on the outside. It's a good lesson for all of us:
Scattered around the farmland where I grew up in Centerton, Indiana, were gravel pits. The county would pay local farmers to take a team of mules or horses into a pit and haul out loads of gravel for use on Morgan County roads. Some of the pits were deeper than others, and it would be tough for a team to pull a wagon filled with gravel out through the wet sand and up a steep incline.

One steamy summer day a young farmer—20 years old or so—was trying to get his team of horses to pull a fully loaded wagon out of the pit. He was whipping and cursing those two beautiful plow horses that were frothing at the mouth, stomping, and pulling back from him.

Dad watched for a while and then went over and said to the farmer, "Let me take 'em for you." I think the farmer was relieved to hand over the reins.

First Dad started talking to the horses, almost whispering to them, and stroking their noses with a soft touch. Then he walked between them, holding their bridles and bits while he continued talking—very calmly and gently—as they settled down.

Gradually he stepped out in front of them and gave a little whistle to start them moving forward while he guided the reins. Within moments, those two big plow horses pulled the wagon out of the gravel pit as easy as could be. As if they were happy to do it.

No whip, no temper tantrum, no screaming and swearing by Dad. I've never forgotten what I saw him do and how he did it.

Over the years I've seen a lot of leaders act like that angry farmer who lost control and resorted to force and intimidation. Their results were often the same, that is, no results.

So much more can usually be accomplished with Dad's calm, confident, and steady approach. For many of us, however, the temptation, our first instinct, is to act like the farmer—to use force rather than to apply strength in a measured and even gentle manner. Unfortunately, in my early years the former—force—was close in some respects to my own approach as a leader.
* * *


Like us on
Instagram
and
Facebook
for additional leadership and personal development ideas.
* * *

Posted by Michael McKinney at 12:50 PM
Permalink | Comments (0) | This post is about Leaders , Leadership