5 Leadership Lessons: Getting Your Leadership in Gear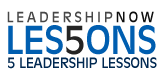 Rhett Laubach has written a book to help you get your leadership in gear.
Leaders in Gear
is filled with 37 practical behaviors, strategies and tactics to lead yourself and others and 22 ideas to improve your presentations.

The best way to have the strength, power and dedication to do all the little things to get and stay into Leader Gear is to put your focus on a greater purpose and mission….This "greater than me" perspective provides fuel when times get tough. Getting into Leader Gear is a daunting task. Staying there is even more demanding. Put and keep your focus on the greater cause, whatever that is for you. It could be your team, customers, core beliefs or faith.

Big performers don't see themselves as big performers. They see themselves as growing performers. They are constantly getting better, learning, stretching, risking, pursuing and running. Big performers are in a never-ending battle with complacency.

Many people don't grasp the concept of how to create genuine happiness because they are blinded by the hard work it requires and because many times it involves being entirely others-focused.


Good time managers don't have to cut corners to meet deadlines. They don't have to skip breakfast, drive too fast, be short with people, under-deliver on a project, etc. The basic rules of successful living exist, are well-known and are achievable if you manage your time instead of letting your time manage you.

The Threshold Thread concept states that all high achievers have developed the ability to push their capabilities further than the average person. Their threshold for hard work is higher. Their patience threshold is longer. Their commitment threshold is stronger. Will Smith has been quoted as saying that the true secret to his success is an insane work ethic. He uses running as an example. If you were on a treadmill beside him he knows one thing for certain—you will get off first.
Posted by Michael McKinney at 12:48 PM
Permalink | Comments (0) | This post is about Five Lessons