Wooden on Leadership
John Wooden and Steve Jamison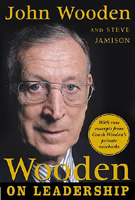 Format:
Hardcover, 256pp.
ISBN:
9780071453394
Publisher:
McGraw-Hill
Pub. Date:
April 2005
Average Customer Review:

For Bulk Orders Call: 626-441-2024

Description and Reviews
From
The Publisher:
"Team spirit, loyalty, enthusiasm, determination. . . . Acquire and keep these traits and success should follow."
—Coach John Wooden
John Wooden is without question one of the most respected and honored sports coaches in our nation's history. But it wasn't winning games that drove him; it was ensuring that, regardless of the final score, his players always put forth their utmost effort and performed to the best of their abilities.
One of the lesser-known aspects of Wooden is the notebooks in which, beginning in 1948, he regularly recorded his thoughts, inspirations, and life lessons. In
Wooden on Leadership
, the legendary coach and his longtime collaborator Steve Jamison combine the best of those notebooks with Wooden's far-more-celebrated Pyramid of Success to create a leadership skills guide designed to help anyone develop character, conviction, and remarkable achievement.
Whether discussing teamwork ("It takes 10 hands to score a basket"), organization ("Don't mistake activity for achievement"), or even discipline ("Use the carrot as a stick"), it constructs a masterful template for confronting limitations and achieving personal success in virtually any setting or situation.
John Wooden's Pyramid of Success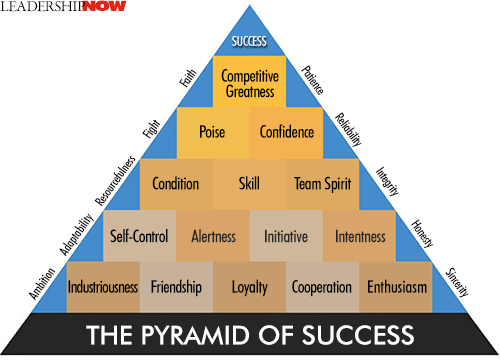 "Success is peace of mind which is a direct result of self-satisfaction in knowing you did your best to become the best that you are capable of becoming."


Reader's Index
Send us your favorite quotes or passages from this book
.
• "Leadership starts with self-control. Remember, control of your organization begins with control of yourself. When you lose control, you sanction the same behavior for those under your leadership—the team. There is never an excuse for violating this imperative, and when you do, your credibility and consistency as a leader diminish accordingly." Pg. 39

About the Author
John Wooden
was the winner of 10 NCAA basketball championships in 12 years with the UCLA Bruins and was named Coach of the Century by ESPN. The only person to be inducted into basketball's Hall of Fame as both a player and a coach, he is the author of
They Call Me Coach
and
Wooden: A Lifetime of Observations and Reflections On and Off the Court
.
Steve Jamison
is a popular columnist and speaker. A close confidante of John Wooden, he is coauthor of the bestselling biography
Wooden
.

Table of Contents
| | | |
| --- | --- | --- |
| | Preface | xi |
| | Prologue: The Joys of My Journey | xii |
| Part 1 | The Foundation For My Leadership | |
| | Introduction | 3 |
| 1 | The Pyramid of Success | 16 |
| 2 | The Pyramid's Second Tier | 31 |
| 3 | The Heart of the Pyramid | 41 |
| Part 2 | Lessons In Leadership | 59 |
| 4 | Good Values Attract Good People | 61 |
| 5 | Use the Most Powerful Four-Letter Word | 80 |
| 6 | Call Yourself a Teacher | 92 |
| 7 | Emotion is Your Enemy | 107 |
| 8 | It Takes 10 Hands to Score a Basket | 117 |
| 9 | Little Things Make Big Things Happen | 135 |
| 10 | Make Each Day Your Masterpiece | 153 |
| 11 | The Carrot is Mightier Than a Stick | 165 |
| 12 | Make Greatness Attainable By All | 178 |
| 13 | Seek Significant Change | 192 |
| 14 | Don't Look at the Scoreboard | 209 |
| 15 | Adversity is Your Asset | 219 |
| Part 3 | Lessons From My Notebook | 233 |
| EPILOGUE | Some Things Don't Change | 289 |
| | | |
| | Index | |

Find Items On Similar Subjects

Beyond Success
: The 15 Secrets of a Winning Life Based on Legendary Coach John Wooden's Pyramid of Success

The Essential Wooden

Wooden
: A Lifetime of Observations and Reflections On and Off the Court