Transforming Your Leadership Culture
John B. McGuire and Gary Rhodes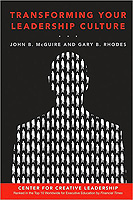 Format:
Hardcover, 336pp.
ISBN:
9780470259573
Publisher:
Jossey-Bass
Pub. Date:
March 30, 2009
Average Customer Review:

For Bulk Orders Call: 626-441-2024

Description and Reviews
From
The Publisher:
The challenges business leaders face today barely resemble those of just thirty years ago. We must either face up to a serious shift in our identities or continue to perish professionally and organizationally at alarming rates. In response to these rapidly changing circumstances, a new kind of organization is emerging: the interdependent-collaborative organization—and all institutions, organizations, and governments are going to need its adaptive, quick-footed, see-around-the-corner capacity. In this book, John McGuire and Gary Rhodes of the renowned
Center for Creative Leadership
offer a practical guide for achieving feasible culture transformation by helping leaders see how leading the culture and managing the operations are two sides of the same coin.
Transforming Your Leadership Culture
provides guidance and resources that help leaders decide what change is feasible, how to set practical incremental targets of change and development, and what tools are needed for navigating the turbulent waters of the change process. Executives must do this change work first, say the authors, leading by engagement and example—with senior leaders demonstrating alignment toward the change they expect of others by discovering and navigating a joint future together. Integrating developmental theory with solid research, the authors show how this approach orients organizations toward a connected leadership capability in which everyone in the organization can share.
Transforming Your Leadership Culture
debunks the common myth that change in organizational culture is beyond the reach of mere mortals. It shows how leadership can be an emergent, creative, collective force for change.

Reviews
"If you are a leader who has been burned by the failure of traditional change management—remember that program that cost millions and didn't change a thing—this is the book for you. It provides a wholly new perspective for transforming leaders and your organization's culture simultaneously, and rapidly."
—Michael Beer, chairman, TruePoint, and professor emeritus, Harvard Business School
"John McGuire and Gary Rhodes provided solid support as we transformed our company from a top-down, do-your-job-because-I-said-so culture to a collaborative learning community of leaders within a process-centered organization. I cannot imagine having done it without them."
—Loyal Peterman, president and founder, Abrasive Technology, Inc.
"It is becoming more and more obvious that a developmental view of the human being is the core of any effective human change process. Transforming Your Leadership Culture is the latest book—and one of the best books—about how and why this is so, and how to implement it in your own business. Highly recommended!"
—Ken Wilber, founder, Integral Institute, and author of The Integral Vision and Integral Psychology
"The path to creating a genuine leadership culture in organizations is perhaps the deepest mystery of organizing. McGuire and Rhodes have carefully documented the actual paths taken by some of the very few companies that have successfully transformed toward interdependence together. Transforming Your Leadership Culture maps the process into the heart of this mystery."
—Bill Torbert, management professor emeritus, Boston College
"I had hoped that creating a high-performance organization could happen swiftly with a few powerful speeches and actions. The challenging truth is that creating an interdependent spirit and culture demands perseverance. Indeed, this is what sets the committed few apart from the masses—and the results are extraordinary!"
—Vance Tang, president and CEO, KONE Inc.

About the Authors
John B. McGuire
is a senior faculty member at the Colorado Springs campus of the Center for Creative Leadership, where?he focuses on organization-wide change through leadership.
Gary B. Rhodes
is a CCL adjunct and retired senior fellow. He is an executive consultant for Leading Edge Solutions, Inc., in San Diego, California.
About the
Center for Creative Leadership
: Ranked among the world's top providers of executive education by BusinessWeek and the Financial Times, the Center for Creative Leadership develops better leaders through its exclusive focus on leadership education and research, and is headquartered in Greensboro, North Carolina, with campuses in Colorado Springs, Colorado; San Diego, California; Brussels, Belgium; and Singapore.

Table of Contents
| | | |
| --- | --- | --- |
| | | |
| | Acknowledgments | |
| | The Authors | |
| | Introduction | |
| | | |
| | PART ONE: YOU, YOUR TEAM, AND TRANSFORMATION | |
| 1 | Transformation: Can It Be Done? | |
| 2 | Organizational Culture: Beliefs That Drive Behavior | |
| 3 | Bigger Minds: Developing from the Inside Out | |
| 4 | Engagement and Leader Logics | |
| 5 | Personal Readiness and Leading Transformation | |
| 6 | Headroom: Standing Up for Change | |
| 7 | Engaging Your Senior Team | |
| | | |
| | PART TWO: LEADERSHIP CULTURE AND ORGANIZATIONAL TRANSFORMATION | |
| 8 | The Culture Development Cycle | |
| 9 | Reaching into the Culture | |
| 10 | Strategies, Culture, and Readiness: The Pattern in Six Case Studies | |
| 11 | Feasibility Maps and Changeability | |
| | | |
| | Appendix A: A Very Brief History of Developmental Theory and Leadership Research | |
| | Appendix B: Roots of the Headroom Concept and Related Methods and Tools | |
| | Appendix C: Helpful Sources of Studies on Intelligence and Brain Research | |
| | Glossary | |
| | References | |
| | Index | |

Find Items On Similar Subjects

Transparency
: How Leaders Create a Culture of Candor