The 14 Questions Every Board Member Needs to Ask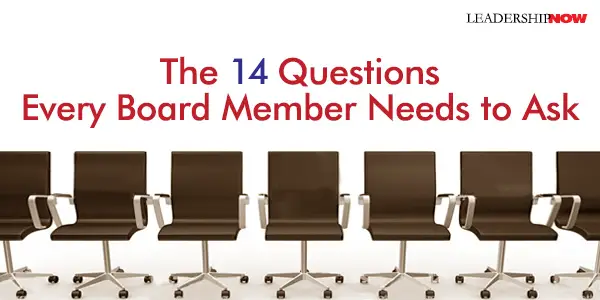 THE question of who's running the organization is a critical one in this economic environment. Many boards are being asked to do what they were never prepared to do. The challenges and pressures are immense. In a critically important book for directors—Owning Up—world-renowned adviser Ram Charan says the economic downturn is a wake-up call to corporate boards. "Boards need to own up to their own accountability for the performance of the corporation."
Increasingly, "governance now means leadership, not just over-the-shoulder monitoring and passive approvals. Boards must fiercely guard their companies against the threats of rapid decline and sudden demise, while at the same time helping management seize the opportunities that tumultuous change presents but are hard to see in the daily fray of running the business. The board that does both turns governance into a competitive advantage." And all of this without micromanaging. It's quite a balancing act. [Charan: "Asking questions of an operating nature is not in itself micromanaging, as long as the questions lead to insights about issues like strategy, performance, major investment decisions, key personnel, the choice of goals, or risk assessment." Why and how is key.]
Charan offers fourteen questions that "get to the heart of the unique issues that boards are facing now." I think the questions are as insightful and provide as much food for thought as the answers they might evoke:
Question 1: Is the Composition of the Board Right for the Challenge?
Question 2: How Are We Addressing the Risks that Could Put Our Company over the Cliff?
Question 3: Are We Prepared to Do Our Job Well When a Crisis Erupts?
Question 4: Are We Well Enough Prepared to Name Our Next CEO?
Question 5: How Well Does the Board Own the Strategy?
Question 6: How Can We Get the Information We Need to Govern Well?
Question 7: How Can Our Board Get CEO Compensation Right?
Question 8: Why Do We Need a Lead Director Anyway?
Question 9: Is Our governance committee Best of Breed?
Question 10: How Do We Get the Most Value out of Our Limited Time?
Question 11: How Can Executive Sessions Improve the Ownership Function of the Board?
Question 12: How Can Our Board Self-Evaluation Improve Our Functioning and Our Output?
Question 13: How Do We Stop from Micromanaging?
Question 14: How Well Prepared Are We to Work with Activist Shareholders and Their Proxies?
In good times, not enough consideration has been given to question one. Does the board have enough depth of knowledge or experience to ensure the organization stays on track? "Directors as a group must have the specific skills and perspectives needed to carry out their responsibilities." And these skills must evolve with the times. "If the composition of the board is not appropriate, it is the failure if the [governance] committee. The board must empower the committee to actively shape the board composition." Bad directors drive out good directors. It's time for a check-up. Charan's questions help boards do just that.
Additionally, while squarely aimed at directors, Charan's questions serve a wider audience of leader's as well. The questions speak to any leader of the need to "own up" to the responsibilities found in their own context. Are we up to the challenge in the area we have chosen to lead? Are we dealing with the issues? Are we trying to identify the issues early and get ahead of them? Are we learning so that we are better able to perform? Are we aware of our impact? All of these questions speak to the need for personal accountability. Addressing Charan's questions is the way forward.
* * *


Like us on
Instagram
and
Facebook
for additional leadership and personal development ideas.
* * *


Posted by Michael McKinney at 10:03 AM
Permalink | Comments (0) | This post is about General Business , Leadership , Management