Do You Need a Good Rationalization?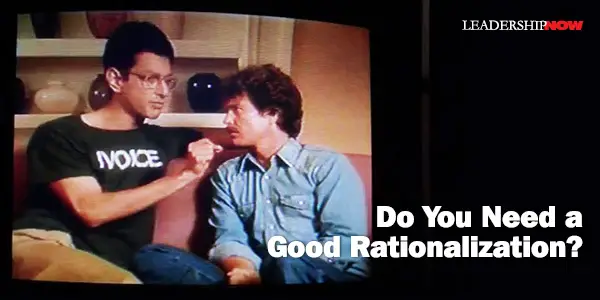 IT IS EASY for us to deceive ourselves. In The Big Chill, Jeff Goldblum's character Michael Gold observed, "I don't know anyone who could get through the day without two or three juicy rationalizations." How true.
Rationalizations help us to justify thinking or behavior that we suspect is questionable in the first place. It blurs distinctions. Rationalizations are easy to see in others, but our own take a little more effort to label them for what they are.
To aid us in this endeavor, Ronald Howard and Clinton Korver, authors of Ethics for the Real World, offer these tests to see if our thinking stands up to a little scrutiny.
Other-Shoe Test. The age-old question: How would we feel if the shoe were on the other foot?
Front-Page Test. Would we think the same was if it were to be reported on the front page of the Wall Street Journal? Or the New York Times? Or USA Today? Or the paper our hometown friends read?
Biased-Language Test. Would we feel similarly if we replaced our value-laden language—euphemisms and cacophemisms—with value-neutral language?
Role-Model Test. Would we do the same if our action exemplified the behavior we would expect from our children?
Loved-One Test. Would we change our mind if the person on the receiving end of the ethical transgression were a loved one?
Mother's Test. And the simplest of all: what would our mother think?
"If we show no interest in asking such questions, we are already on shaky ground."
* * *


Like us on
Instagram
and
Facebook
for additional leadership and personal development ideas.

Posted by Michael McKinney at 04:26 PM
Permalink | Comments (0) | This post is about Ethics