Questions Are the Answer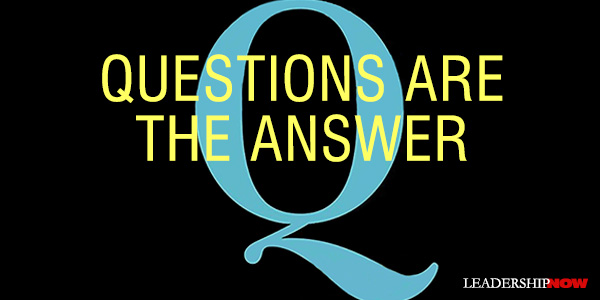 A PROBLEM OF OUR TIME—and perhaps every generation—is that we ask the wrong questions. The wrong questions divide us. Great questions break down assumptions and create possibilities. Simply put, better questions give us better answers. It's all about the question.
Great leaders are great at asking better questions. In the rapidly changing environment, we are in today, it is imperative. Our future depends on it. Until you ask different questions, you can't move beyond the incremental progress most of us find ourselves in. Breakthroughs require different questions from the ones we've been asking.
Decisiveness is a great quality but too often we charge ahead without really understanding the issue. We don't get behind the issue. Better questions help us to get there. In Questions are the Answer, Hal Gregersen explains:
The point is not to remain in constant questioning mode, always stepping back to rethink things instead of stepping up to make a decision and get on with life. But answering yesterday's questions is not good enough at times when we are feeling stuck, or when innovation is imperative, or when change must happen more continuously.
How do you get to the right question? Gregersen says that we can create the conditions in which questions thrive.
To increase our odds of formulating better questions, we need to get out observe and network with the intention of exposing ourselves to new and varied viewpoints. And listen. When we stop talking we'll be amazed at what we can learn. Our viewpoint could always be improved. Be intentional about it.
We are rewarded and conditioned to have answers. We are not typically encouraged to ask. More often we passively collect information without learning to question the foundational concepts. Good questioners were encouraged to ask from early on in their childhood. "If we want to raise a generation of better questioners, we should try harder to influence what happens at home." Intentionally fuel curiosity. Encouraging those "why" questions will fuel their curiosity and help to generate the "what if" questions that design better futures.
As you advance as a leader "and have the opportunity to lead others and have much more impact, your focus has to shift to 'making other people the smartest in the room, with good questions.'"
Be comfortable with being wrong. Try being wrong more. "Questions don't arise whenever we are wrong. It's only on those rarer occasions when we think we are wrong. And for most of us, it's only when we are practically hit in the face with how wrong we have been that questions start to get our attention." Seek to question and improve your views.
It makes sense to keep reminding yourself to admit and embrace being a little more wrong, goading yourself to stray into somewhat more uncomfortable environs, and compelling yourself to be more reflectively quiet. Immerse yourself in situations where you feel less right, less comfortable, or less compelled to speak, and your questions will multiply.
Gregersen suggests we brainstorm for questions—not answers—to find new insights. That is, what better questions could we be asking about our problem? He calls them Question Bursts. There are two rules to this exercise—first, questions only. And second, no explanations or introductions. Just the questions please. And keep it short—four minutes is ideal. You're trying to get people to look at the problem differently. You're not trying to elicit answers but to get people to think differently. Question Burst exercises help to minimize and potentially overcome cognitive biases and eventually generate the breakthrough answers we need.
"Asking the right questions is the only path to creating value—real value—at any level and in any role." You have to actively support questioners because most organizations try to silence questioners. A leader who is secure enough to be questioned is a better leader. If as a leader you ask questions, you make it safe for others to do the same.
Did you ask a good question today?
* * *


Like us on
Instagram
and
Facebook
for additional leadership and personal development ideas.
* * *

Posted by Michael McKinney at 10:26 PM
Permalink | Comments (0) | This post is about Thinking