What Is Your Plan For Personal Growth?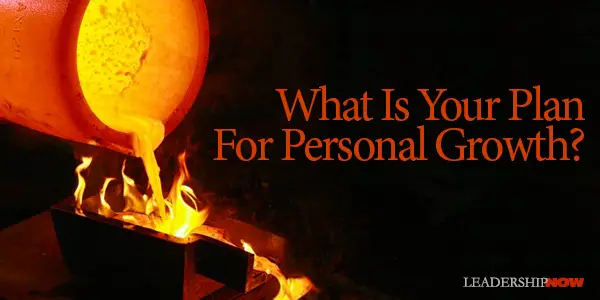 YOU WON'T GROW to your potential without a plan. You'll get older, but not better. Experience guarantees nothing. Growth is intentional. If you are not growing you're just putting in time. Waiting.
Crucibles of Leadership by Robert Thomas, is an important book that asks, "What is your personal learning strategy?" A PLS is "a highly individualized plan for leveraging hard-won insights about learning from adversity and using practice to improve performance."

We all have crucibles, but it's what we do with them that is important. Thomas writes that crucibles "are like trials or tests that corner individuals and force them to answer questions about who they are and what is really important to them." Crucibles become valuable when we intentionally mine them for lessons that make us more effective, aware and integrated. Warren Bennis points out in the foreword that the self-awareness we should gain is "the kind of deeper understanding of self that then turns outward rather than inward and results in better understanding of others and the organizations that matter to us."
Thomas says that we have to change our approach to learning. We shouldn't wait for just the right moment to arrive, but learn in the moment—in real time—to, as he writes, "learn while doing."
Preparation is essential to learning. In order to take advantage of our crucibles, we must develop a Personal Learning Strategy (PLS). Thomas introduces a framework for crafting a PLS complete with exercises to help you properly move through each step. It begins with a little introspection—understanding why you want to lead, what motivates you to do so and understanding how you learn. Then you need to access your capability in three core areas: adaptive capacity, engaging others through shared meaning, and integrity. From here you can see areas where you need to improve and strengthen in order to reach your leadership goals. Now you can assign behaviors to each of these areas that you can consciously practice at work and at home. He suggests that you "scan your landscape at work and at home, and identify those instances and roles out of your comfort zone that will allow you to stretch into new behaviors, perspectives, and leadership capabilities."
Organizations too, can tap into the power of a PLS by adopting an experience-based approach to their leadership development program. Organizations need to recognize the importance of crucible experiences and provide the resources people need to extract insight from them in addition to the regular technical and skills training people should be receiving. Most often those resources involve creating a process that links the two learning opportunities together.
One important note on a trap that people and organizations sometimes fall into in their zeal to develop character and leadership, Thomas writes, "We create enough pressures to perform that we don't need to invent new ones just so that we can accelerate leader development. The trick is to harness the crucibles that life sets in motion so the opportunity for learning is not squandered." Life gives us enough opportunities to learn, but often, we just need help getting the lesson we should be getting from it.
Accomplished leaders say that experience is their best teacher. They learned their most meaningful and important leadership lessons—lessons that they've integrated into their own leadership style—through crucibles. These were critical events and experiences, times of testing and trial, failure more often than grand success, that grabbed them by the lapels and demanded to know "What do you stand for?" and "What are you going to do?" A situation arose that did not respect age, gender, generation, nationality, talent, or charisma; all it asked was that the person step up and be someone or do something they'd never been or done before.
Having a Personal Learning Strategy is a way of thinking about and looking at life that allows you to proactively grow from what life throws at you, rather than being knocked out by it. You need a Personal Learning Strategy.
* * *


Like us on
Instagram
and
Facebook
for additional leadership and personal development ideas.
* * *


Posted by Michael McKinney at 02:06 PM
Permalink | Comments (0) | This post is about Books , Leadership Development , Personal Development