Quarrel Not At All: The Stuff of Command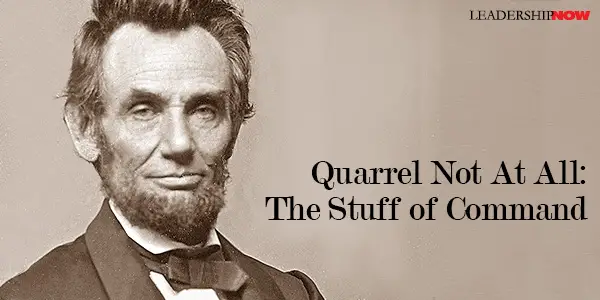 I
N
President Lincoln: The Duty of a Statesman
, the follow-up to
Lincoln's Virtues
, William Lee Miller, writes that if you knew Lincoln before he became president, you knew that it was part of Lincoln's character to be capable of overlooking slights to himself, but you might question whether he could, at the same time, "command armies and make the demanding decisions of a nation at war."
The stuff of command, especially in a giant deadly conflict, would not seem ordinarily to combine well with the stuff of forbearance and generosity. Executive skill and vigor, like a surgeon's skill, would appear to require a certain withdrawal of empathy. The resolution necessary to great statesmanship would appear to invite, if not even to require, a certain ruthlessness with those whose wills and complex humanity complicate, impede, and even defy one's vigorously pursued purpose.
In a letter to Captain James M. Cutts who had been found guilty in a court-martial of conduct unbecoming of an officer of a gentleman, Lincoln offered this advice:
Quarrel not at all. No man resolved to make the most of himself, can spare time for personal contention. Still less can he afford to take all the consequences, including the vitiating of his temper and the loss of self-control.

Yield larger things to which you can show no more than equal right; and yield lesser ones, though clearly your own.
Miller writes:
Interpreting Lincoln, we might say: We overestimate our own interest, and we underestimate our adversary's, so that the advice to yield on all small matters, and on all matters than even to our distorting eyes seem equally balanced, is a moral corrective. Here is a lawyer, and a politician, and a war leader in the midst of tremendous battles giving this surprising advice: quarrel not at all.
Lincoln was a man possessed magnanimity and discriminating judgment, who was able to rise above vindictiveness to win the battles that mattered most. Miller's book on Lincoln holds many lessons for leaders of today. He shows how Lincoln learned to balance his strengths and weaknesses in a way that made him one of the greatest and most respected leaders in modern times.
* * *


Like us on
Instagram
and
Facebook
for additional leadership and personal development ideas.
* * *


Posted by Michael McKinney at 09:37 AM
Permalink | Comments (0) | TrackBacks (1) | This post is about Leaders , Personal Development