Lincoln's Virtues
: An Ethical Biography
William Lee Miller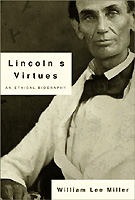 Format:
Paperback, 544pp.
ISBN:
9780375701733
Publisher:
Vintage
Pub. Date:
January 2003
Average Customer Review:

For Bulk Orders Call: 626-441-2024

Description and Reviews
From
The Publisher:
How did an unschooled career politician named Abraham Lincoln, from the raw frontier villages of early-nineteenth-century Illinois, become one of the most revered of our national icons? This is the question that William Lee Miller explores and answers, in fascinating detail, in Lincoln's Virtues.
Lincoln, Miller says, was a great man who was also a good man. It is the central thrust of this "ethical biography" to reveal how he became both, to trace his moral and intellectual development in the context of his times and in confrontation with the leading issues of the day—most notably, of course, that of slavery.
Following the rough chronology of Lincoln's life up to the crucial decisions in the winter of secession, the narrative portrays his conscious shaping of himself as a writer, speaker, moral agent, politician, and statesman. Miller shows us a man who educated himself through reading, had a mind inclined to plow down to first principles and hold to them, and combined clarity of thought with firmness of will and power of expression, a man whose conduct rose to a higher moral standard the higher his office and the greater his power. The author takes us into the pivotal moments of "moral escalation" in Lincoln's political life, allowing us to see him come gradually to the point at which he was compelled to say, "Hold fast with a chain of steel." Miller makes clear throughout that Lincoln never left behind or "rose above" the role of "politician," but rather fulfilled the highest possibilities of this peculiarly honorable democratic vocation.
Lincoln's Virtues approaches this much-written-about figure from a wholly new standpoint. As a biography uniquely revealing of its subject's heart and mind, it represents a major contribution to the current and perennial American discussion of national moral conduct, and of the relationship between politics and morality.

Reviews
"No American President understood more keenly and confronted more squarely the moral dilemmas of power than Abraham Lincoln, and William Lee Miller offers a fascinating account, sensitively written, rich in insight, of the moral self-education of our greatest president."
—Arthur M. Schlesinger, Jr., author of A Thousand Days: John F. Kennedy in the White House
"I can't help suspecting that Abraham Lincoln, a man notable for learning from his own mistakes, would be smiling wryly at William Lee Miller's astute pinpointing of the moral improvements that Lincoln achieved, partly as a result of what history threw at him and partly as a result of what he threw at history. Today's leaders--and followers, too--would do well to ponder this book."
—June Bingham, whose latest play, The Strange Case of Mary Lincoln, a musical, was given an off-Broadway workshop production in 2001
"In this masterful biography of Abraham Lincoln Bill Miller exhibits the same cluster of worthy qualities he assigns to his subject -- penetrating insight, wisdom about human nature, tenacious purpose, a wonderful sense of humor, and an eloquent style of expression."
—Doris Kearns Goodwin, author of No Ordinary Time: Franklin and Eleanor Roosevelt
"William Lee Miller's original, compulsively readable, and persuasive analysis of Lincoln as an 'unmoralistic moralist' who practiced an 'ethic of responsibility' will confound cynics who believe virtuous politician is an oxymoron and debunkers who portray the sixteenth president as a racially insensitive, reluctant emancipator."
—Michael Burlingame, author of The Inner World of Abraham Lincoln
"Lincoln's Virtues is an extraordinary book. Tackling a subject long considered the province of apologists and legend, William Lee Miller proves that a lively presentation, antimated by wit and humor, can co-exist with careful scholarship. The result is a new and surprisingly fresh look at the historical Lincoln, whose ethical behavior is shown to be more engagling and alluring than the legend."
—Douglas L. Wilson, author of Honor's Voice
"Willliam Lee Miller offers a vivid and compelling examination of the ethical dimensions governing Abraham Lincoln's thought and action. In the tradition of Reinhold Niebuhr, Miller's Lincoln illustrates the tensions in a democratic society between individual morality and collective governance."
—Thomas Schwartz, Illinois State Historian
"A timely and fascinating reminder that political idealiam can be of practical use in wartime as well as peace."
—Theodore C. Sorensen, author of A Different Kind of Presidency
"Abraham Lincoln wasn't born on Mount Rushmore, observes William Lee Miller, but this splendid biography helps us understand how he wound up there. Miller's Lincoln is not the spotless, iconic hero of American myth but a striving human being and practical politician who overcomes lapses and mistakes to become a leader who guides the nation through its seminal crisis. This is a Lincoln for our time, an extraordinary ordinary man whose character responds to military and moral challenge."
—Lou Cannon, author of President Reagan: The Role of a Lifetime

About the Author
William Lee Miller
has taught at Yale University, Smith College, Indiana University, and the University of Virginia, where he is currently Miller Center of Public Affairs Scholar in Ethics and Institutions. He is the author of numerous books, most recently Arguing About Slavery (1996), which won the D. B. Hardeman Prize for the best book on Congress.

Find Items On Similar Subjects

President Lincoln
: The Duty of a Statesman

Lives of Moral Leadership

Team of Rivals
: The Political Genius of Abraham Lincoln